Time passed. Times change. Everything was to teach us something. –Joan Didion
WHAT'S IN A COLUMN? Free associations? Anachronisms? The communication of an idea? Ideals? In "The Cat Inside," a short short by Bill Burroughs published in the fall 1992 issue of the Paris Review, someone objects to someone else's fondness for Hollywood's pervasive sentimental wholesomeness by declaring, "I'll tell you what's wrong with it B.J., it's shit. It's dead mawkish muck and it destroys the truth under it."
In the next paragraph, we read a simple scenario of a mother seal and a cub whose shoulder has been torn to shit, probably by some adult male, awaiting a fateful crossing. "Probably won't make it. They all have to swim to Denmark. 1500 miles away. Why? These seals don't know why. They have to get to Denmark." The truth here is palpable and yet invisible, like a stench or an impulse. In this manner, we don't ask what's in a column or why. We just get to Denmark. Or South Dakota. Or whatever symbol you maintain to draw you in with inexorable oneness of purpose. Try to dodge the mawkish muck—the earnest and the paranoid, American archetypes both—and get to a source of vitality. To hell with introductions.

I intended to write about Jean-Luc Godard. He died on September 19th. The legendary cineaste was the last of the French New Wave (or nouvelle vague) founding fathers to punch the clock, following François Truffaut, d. 1984, Claude Chabrol, d. 2010, Éric Rohmer, d. 2010, and Jacques Rivette, d. 2016. His demise took me back to my early 20s when being cool was all that mattered and being cool meant Jean-Luc Godard, meant dressing modish and behaving coquettish and being out of step with times that felt suspiciously facile and stylistically unremarkable. Accompanying those memories came the wisdom that 1) I wasn't the only one who had felt this way, regardless of how I felt at the time (and that universality of unique experience is one of the functions of great art), and 2) those days are irrevocably dead, just like Jean-Luc, just like my youth, and just like the naïveté that with the Great Recession in the rearview, things would only get better.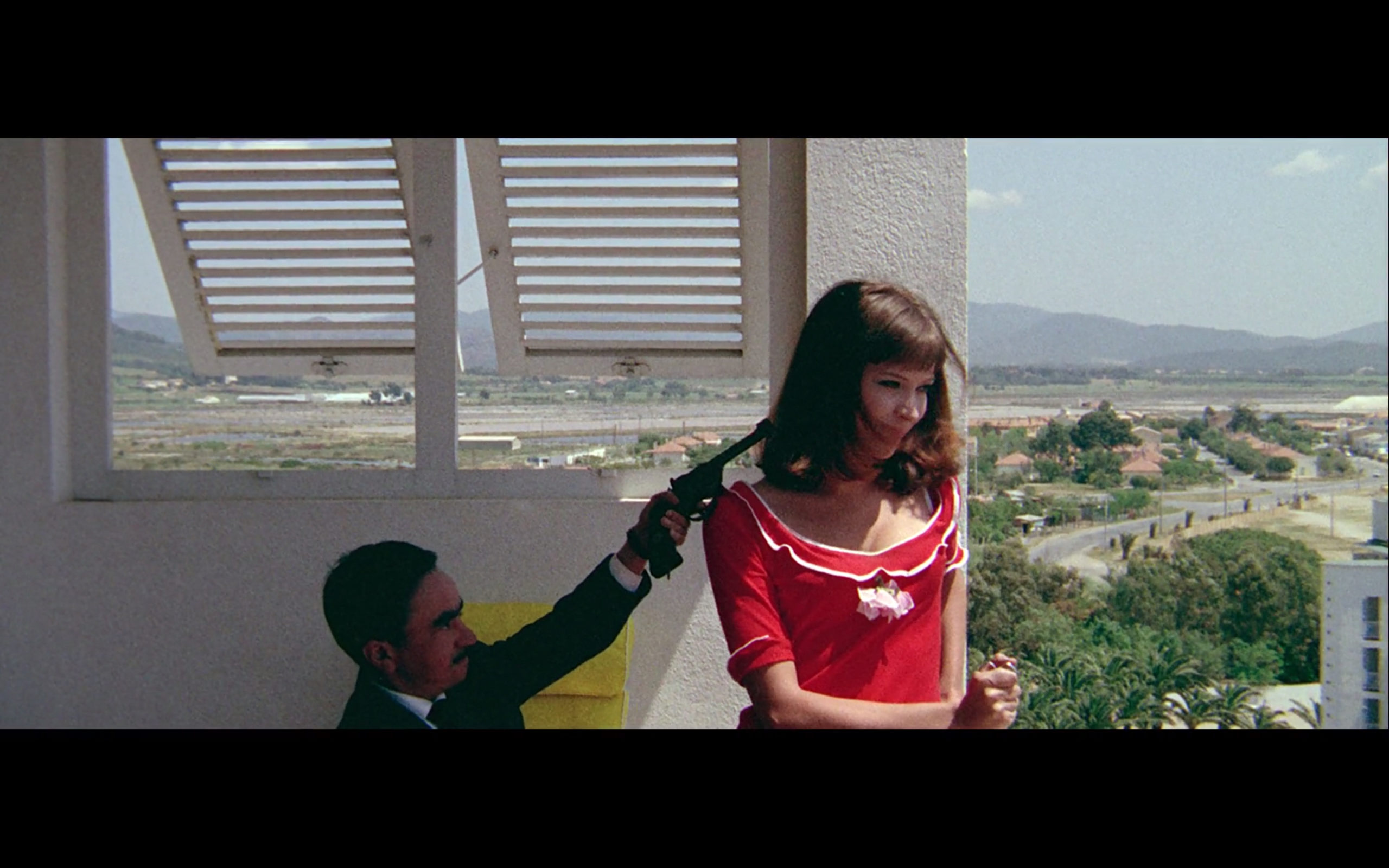 For a brief period in the 1960s, Jean-Luc Godard was style. His provocative blend of quasi-philosophical pronouncements ("I don't know if I'm unhappy because I'm not free, or if I'm not free because I'm unhappy," "The more one talks the less words mean") and socio-political commentary dressed in vibrant formal innovations worked doubly well on the youth. It's a formula that has continued well into this century. It's also the sexiest the Left (radical or otherwise) would ever look.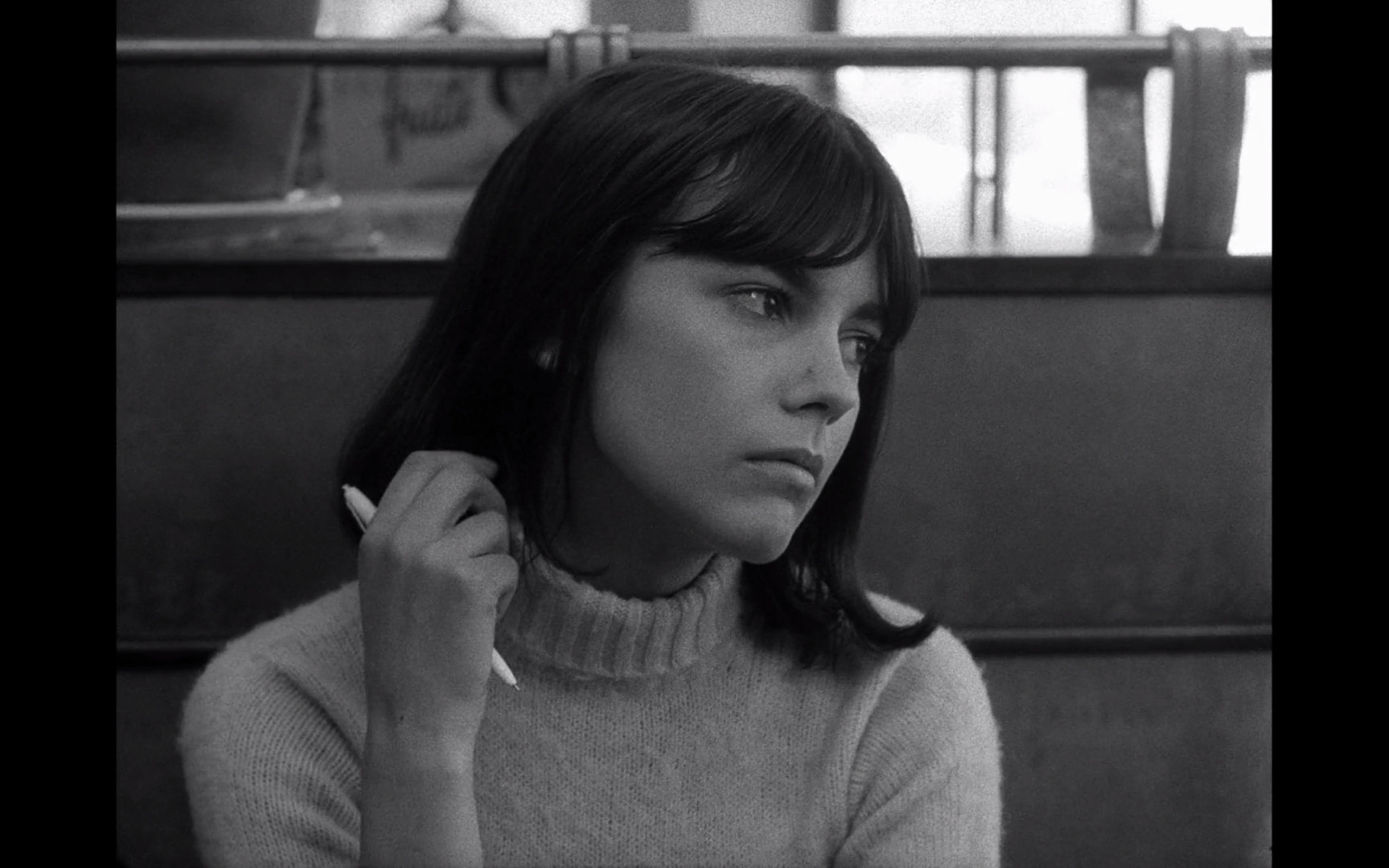 While I would go on to distance myself from Godard's particular brand of New Wave cool—as we often distance ourselves from previous iterations of ourselves, ever amalgamating toward some newer, ever-wanting and misshapen whole—I remained haunted by snippets of dialog, stray images, color combinations. Subconsciously, my sense of "cool" and "style" had absorbed swatches of nouvelle vague's philosophical bravado, nonchalance toward tragedy, allusion through dress, and a bacchanal of art. "All you need for a movie is a gun and a girl," through dark sunglasses. Isn't it pretty to think so?
I could try to go on about the bold triumphs of Breathless, A Woman Is a Woman, My Life to Live, Contempt, Band of Outsiders, Pierrot le Fou, etc., and their formal impacts on filmmakers ranging from Paul Schrader to Spike Lee to Quentin Tarantino to Mary Harron to Wes Anderson, etc., etc. I could attempt to discuss the boundaries broken by his filmic essays on radical politics starting with Two or Three Things I Know About Her, on through the Dziga Vertov Group pictures like Sympathy for the Devil, Everything's Going Fine, and Letter to Jane. I could take a half-assed crack at his finding himself in narrative film once again, through 1980's heavy Every Man for Himself, his revisionist approach to King Lear (starring Norman Mailer, Burgess Meredith, and Molly Ringwald), his experimentation in Keep Your Right Up. (I can't say anything of note about anything that came after because I haven't seen any of it, though I know I should.) But I don't really want to. I'm preoccupied with something else.
Notably, Jean-Luc Godard went out on top. He lived a long life, one which was monstrously prolific and hardly (if ever) beholden to the wants of any other. Then, ever the master of his fate and reminiscent of someone staring into a vast and empty sea like Fritz Lang playing Fritz Lang at the end of Contempt, Godard gave his final direction: He yelled cut on the long drama of his own life. No, Godard's tale isn't one of much horror or real tragedy. Sure, his relationships might not all have worked out (Anna Karina famously noted "He was very strange… He drove me a bit crazy"), but everyone came out alright in the end. His life is a masterpiece of art and commerce and cultural impact and one of the most impressive—and complete—bodies of artistic fulfillment on record.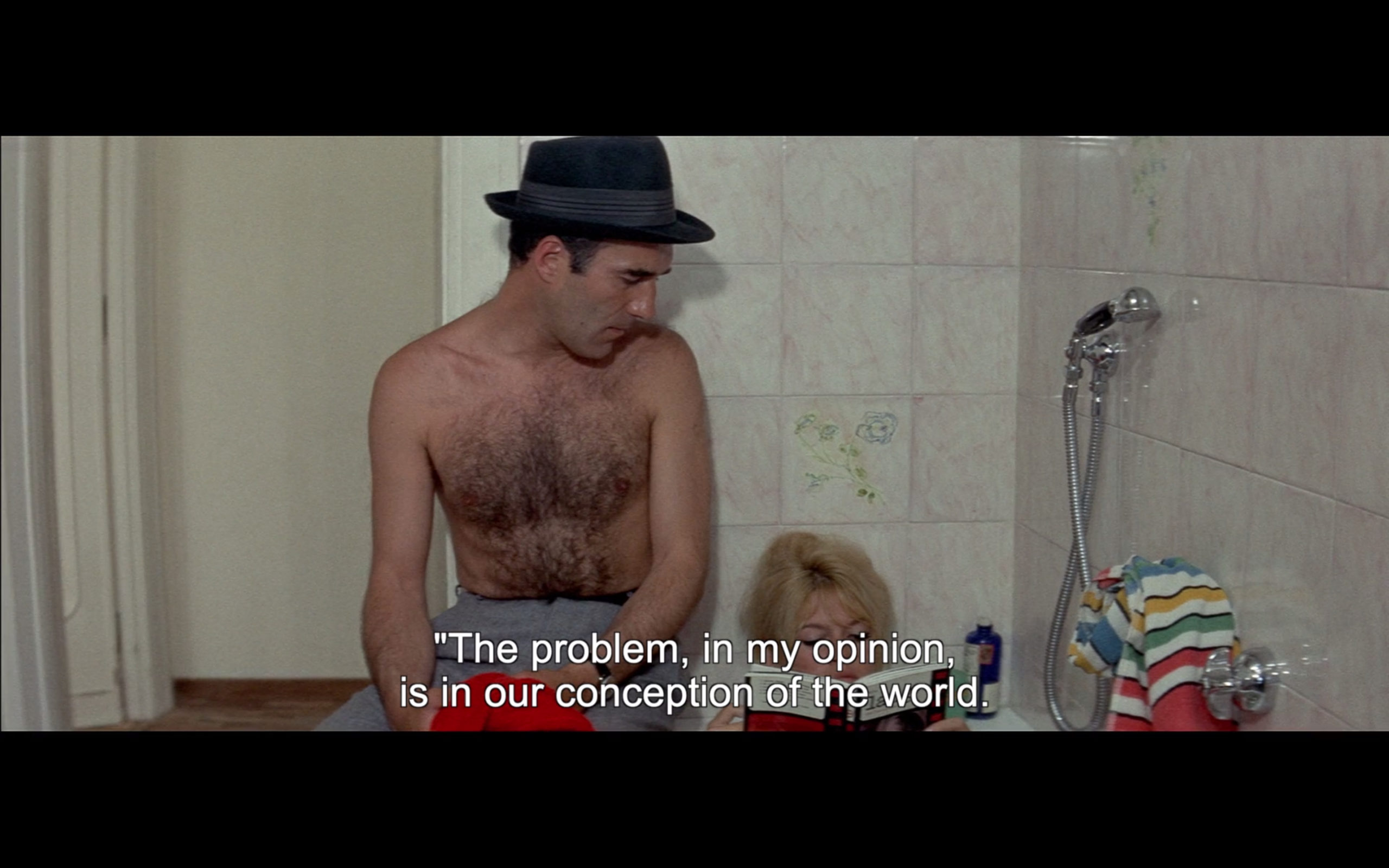 But it's October, after all, and even amid the episodic heatwave that besieges us down here in unglamorous L.A. (for true glamor is never this oblivious to reality), the leaves are beginning to fall, and pumpkins are showing up in weird and awkward places. And Criterion, the "Channel that Godard built," has ushered in a whole new wave of frights for this, the Spooky Season, a time I am neither enraptured by nor impervious to.
And so the Giovanni Pintori-esque elegance of J-L G's Two or Three Things… must be replaced by the lushness of the Douglas Sirk melodrama meets Gallo-inspired B-horror in 2016's The Love Witch. Then, Nicolas Cage eats a cockroach and stalks the streets of Lower Manhattan sporting fake vampire teeth in 1989's Vampire's Kiss. But while now is horror's hour, horror is always around, lurking in plain sight—or else stalking someone's life. Just ask Marilyn Monroe.