Photograph by Sibel Baykam
The last minute text read: "Looking forward to our meeting." I was racing to the World Art Day celebrations at Gloria Delson Contemporary Arts Gallery Downtown after a morning at the TCM Fest in Hollywood and avant-garde theater in the afternoon at CalArts in Santa Clarita. A few days prior to April 15th, a friend told me there'd be a Turkish painter-writer-political rebel I had to meet, but I hardly expected an interview to materialize just like that. After notetaking compulsively during the Art Day speeches, I had a baklava and another glass of wine, caught up with some people I knew and a few I didn't, and was introduced to the Turk. "Meet Bedri." His handshake was firm, his smile embracing, his head of wild curls unmistakable. We quickly arranged a time to meet the next day before I carried onward to a party in Silver Lake.

The next evening I arrived back at GDCA, on Spring Street just past Seventh, greeted by Portia, the gallery's resident pooch—a big black lab—and Bedri, who looked studious in crisp jeans and a pullover. The interview commenced right away; the prospect of speaking with a Berkeley-based publication must have set off strong recollections in the man. After completing an MBA at the Sorbonne in 1980, Bedri enrolled at the California College of Arts and Crafts in Oakland; his first studio in the US—after the facilities at CCA—was at 800 Pine Street in West Oakland. "In those days," Baykam laughed recalling the milieu, "well, let's just say the ladies weren't having afternoon tea in the street." Regardless of its distractions, Baykam considers his time in that once rough-and-tumble part of town to have been indispensably formative, characteristic of his unflappable sense of purpose.

Since the Gold Rush, the Bay Area has been a multicultural bastion, even if its provincial elites weren't always ready to embrace its products. Baykam's seminal San Francisco Manifesto, penned at Caffè Strada in Berkeley, took a resolute stand for all non-Western artists' right to self-determination, and was distributed by the 27-year-old himself and his cadre outside SFMoMA in protest of its obdurate Eurocentricity.

From his first solo show in Bern and Geneva at the age of six as an artworld Wunderkind—son of a Turkish politician—to his tenure as a New-Expressionist par excellence and champion of a Democratic Türkiye, Baykam recounts his life as a self-styled political-artistic "guerilla" in the velvet halls of high art who's gone from provocateur to president of the International Association of Art (or IAA, an official UNESCO partner) and back with a prodigious dose of showmanship and no shortage of no-nonsense wit. His career is a curious one—in one sense for its multifaceted dynamism and in another for the relative lack of attention he's garnered in the U.S. compared to some of his contemporaries.

Downtown L.A. was relatively quiet on that mild night after our conversation. I walked back to the subway under the amber streetlamps quite satisfied with the happenstance way art, personality, and history sometimes coincide. This interview was edited for length and clarity.

Special thanks to Jonathan Jerald for the introduction. Thanks also to Baykam's assistant Öykü Eras for furnishing biographical details and her assistance throughout the process.
Bedri Baykam (b. Ankara, 1957) is one of Türkiye's most internationally renowned artists and intellectuals. The son of Dr. Suphi Baykam, a politician, and Mutahhar Baykam, an engineer-architect, he was a prodigy who has had international exhibitions since the age of six in many cities including Bern, Geneva, New York, Washington, Paris, London, Rome, Munich, Frankfurt, Stockholm, San Francisco, Monaco, Cannes, Berlin, and Los Angeles.
He studied at the Sorbonne University in Paris from 1975 to 1980. He also studied drama in L'Actorat, Paris. He lived in California from 1980-1987, studying painting and filmmaking at the California College of Arts and Crafts (CCAC, now CCA) in Oakland. He returned to Türkiye in 1987 and has remained in İstanbul ever since.
Baykam has had 143 one-man-shows in various countries in addition to participating in numerous group shows. His works have been shown in museums and institutes such as Berlin Akademie der Künste, Barcelona Picasso Museum, Paris Roland-Garros Museum, Pinacothèque de Paris, Stedelijk Schiedam Museum in Holland, Museum der Moderne Salzburg, Osthaus Museum Hagen, Künstlerhaus Bethanien Berlin, Bahrain National Museum, Kunstverein für die Rheinlande und Westfalen, National Academy of Arts of Ukraine and in Biennales such as Cairo, Venice, İstanbul and Buenos Aires; his work has also been displayed in galleries worldwide, including Daniel Templon (Paris), Stephen Wirtz (San Francisco), Yahşi Baraz (İstanbul), The Proposition (New York), Gallery Siyah Beyaz (Ankara), E.M. Donahue (New York), Galerie Kuchling (Berlin), Lavignes-Bastille (Paris), Galerie Pages (Geneva), Opera Gallery (London), Gloria Delson Contemporary Arts (Los Angeles).
Baykam is one of the pioneers of New-Expressionism and of multimedia, political art. He has directed several 16mm films and videos and has acted in several feature films. He is the author of 31 published books, two feature film scripts and there are 51 catalogs and 8 books about his works. He is the co-founder and acting President of Uluslararası Plastik Sanatlar Derneği (UPSD-Turkish Plastic Arts Association), which is a member of International Association of Art (IAA)—an official partner of UNESCO. Baykam was elected as the World President of the IAA at 18th General Assembly in Plzen in 2015, with his term lasting until February 2023. In 2011, Baykam's proposal during the 17th General Assembly of IAA World in Guadalajara/Mexico for a World Art Day on the birthday of Leonardo da Vinci was accepted unanimously by participant countries. Since then, every year a growing number of artist associations in several countries celebrate "World Art Day." In 2019, UNESCO accepted the Baykam's proposal to make World Art Day one of UNESCO's International Days.
Baykam has also been a columnist for several Turkish publications including Tempo, Siyah-Beyaz, Aydınlık, Akşam and OdaTv. He has written daily in İstanbul's Cumhuriyet for many years. He was a Party Assembly Member of CHP, the Turkish social democrats, during the second half of the 1990s and a Presidential candidate for the same Party in 2003.
Bedri Baykam founded Piramid Publishing in 1998 and Piramid Sanat, an art center, in 2006 in Taksim Square, İstanbul. He is married to Sibel Baykam and they have a son, Suphi (b. 1999).
BB: Did you see yesterday the Royal Philharmonic and Royal Academy of Arts were putting up posts about World Art Day? Famous artists too, and most important to me, little kids! From all over the world. This is how I envisioned it. Not something official that has to be tight and constipated. See this logo—you can use it, a kid can use it, a school can use it, it's not protected or anything. And on April 15th, everyone can use this logo and make posts… it's a celebration of the love for art, art for universal peace, art for dialog, art beyond boundaries.
DM: Especially since one of the more notable highlights in your rather prolific career is your tenure as President of the IAA (International Association of Art). Did you have this World Art Day concept in mind going into the presidency?
No, I became president of the IAA in 2015. I had my proposal for World Art Day accepted in 2011, when I was president of the Turkish association. We brought it forward as a proposal and it was accepted unanimously at the IAA World General Assembly in Guadalajara, Mexico. In 2015 I became world president of the organization. Because of Covid it lasted much longer than I thought. Instead of four years, it lasted seven.
And what was that process like—bringing a day of international art appreciation to fruition?
In 2018 I brought the proposal to the UNESCO director to actually get it into effect, and the office said we had to put it on the agenda before the General Conference. But because it had been initially accepted in Guadalajara, we had to talk to the Mexican ambassador. But also, as it was a proposal from the Turkish national committee, we had to talk to the Turkish ambassador and make it a joint effort. First the Turkish ambassador said, that's very difficult…
They didn't want to get involved?
Right, but here is somebody who doesn't take no for an answer. We kept up the pressure. Finally, the Turkish ambassador got in touch with the Mexican ambassador and they managed to place it on the agenda, first to go to the Executive Committee of UNESCO. For that I went to UNESCO with my General Assistant Öykü Eras, my right hand for many years, and we lobbied like hell and talked to about 12 different ambassadors for them to help us. After it was accepted at the Executive Committee, it was accepted a few months later at the General Conference of UNESCO and thus became an official day.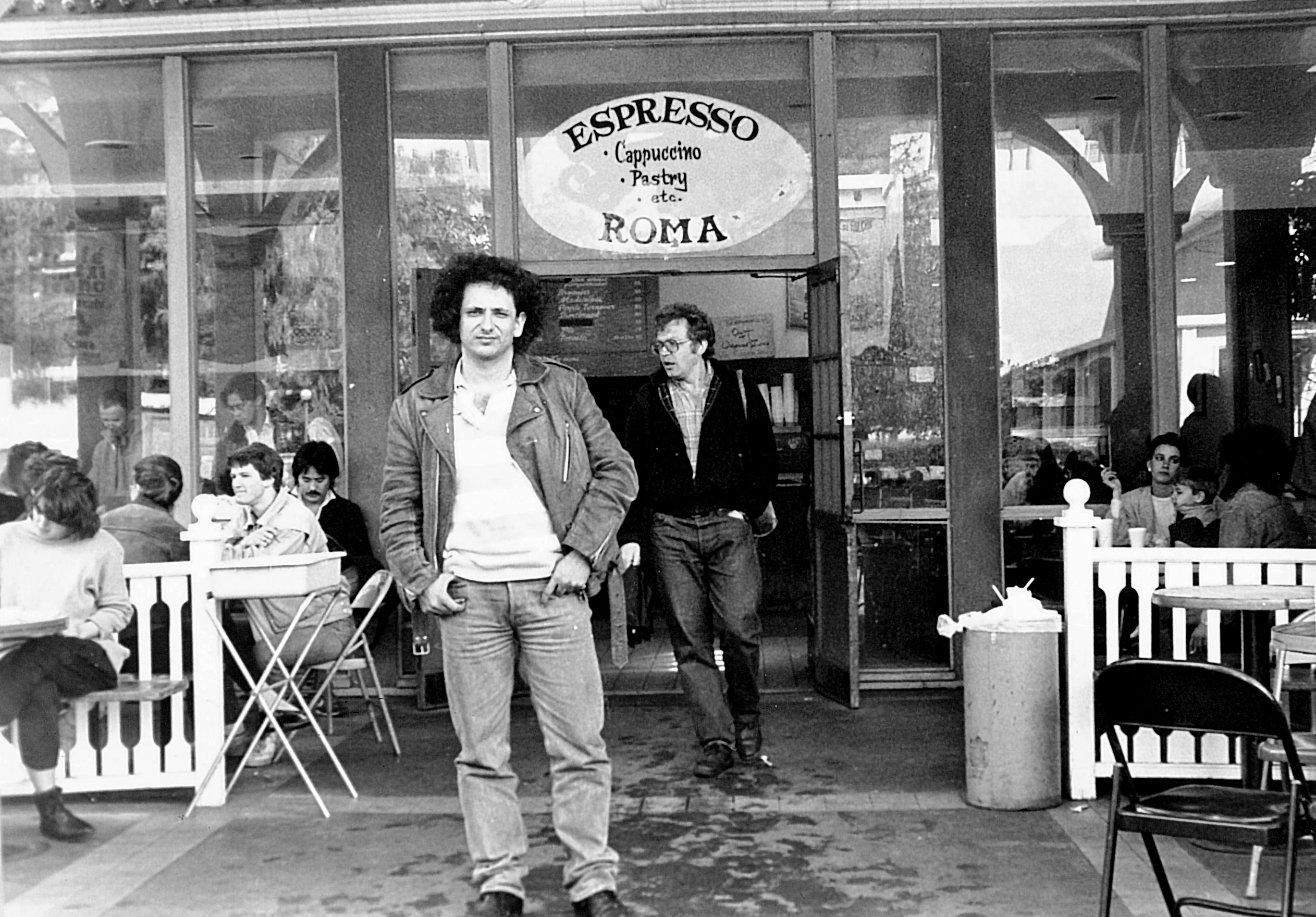 As a self-designated "guerilla" however, so much of your story actually begins in the Bay Area, right?
Berkeley has been a very decisive place in my career. When I was a working artist in Berkeley, I practically lived at Caffè Strada [formerly Caffè Roma] on College and Bancroft. Every morning I had the same routine. Living in North Oakland not far from CCAC, I would wake up, make plans, and hit the road to Strada. I always had breakfast there, talked to a few friends, flirted with a few girls, and then I would hit the road again for errands—the photo shop if I'd any contacts to be developed, or the laundry or the paint supply shop—and then every afternoon from 2:30 – 7:00 I would paint. After 7 pm I would go out. The next day it would start all over again.
Over several years—my visa allowed me only six months at a time—maybe I produced 100 paintings, around six feet by eight feet. It was a real working factory! I also wrote in Caffè Strada—I would read, I would sketch, take notes about the paintings I wanted to do. That all happened at Strada.
And you produced your San Francisco Manifesto. Penguin recently included it in its Why Are We 'Artists'? 100 World Art Manifestos, right? How did this manifesto come to be?
When I was at CCAC I was doing large expressionist paintings. John Streetz [Vice President of Student Affairs] liked my paintings. One day he said there's a show being prepared for next year at the San Francisco Museum of Modern Art (SFMoMA) on New Expressionism and I should contact this person at the museum so they can have a look at my work. So I wrote to the museum and they wrote back saying, we don't have time to see your work, but if you have any other friends from the Middle East, maybe you can find an alternative space and do a show like, Middle Eastern New Expressionist Paintings from the Bay Area with, you know, your five artist friends… Something like that.
I wrote back saying "thanks very much." Then I added, "without looking or listening, just because we are from 'the Middle East' we should be grouped? First of all, do you think you can find New Expressionist painters from the Middle East in every region of the US? Like we're biscuits from Safeway or something?" I told him I couldn't believe the level of prejudice, segregation, etc., and he actually wrote back offering some kind of apology but nothing about an opening. Not even a courtesy visit.
This weighed heavily on me. I kept analyzing the situation, I kept looking back… so this is the way they build every decade of art history. They invite five countries, they call it "international"—and it's always the same five countries, the same museums and galleries that deal with each other you know, "you scratch my back I scratch your back," and they define the new names of the decade and hike the gallery prices up and everybody will be happy. Then the same artists are sent to Paris, to Rome, to London, etc. to earn their certificate of prestige or whatever. So I wrote a manifesto to denounce that. I opened by saying: "Is the Western World Once Again in the Process of Building Modern Art History as Solely the History of Occidental Artists?" The show was called "The Human Condition" but if you're gonna behave like this you should have called your show "The Human Condition in Zurich and Chicago."
Is this what led to Monkeys' Right to Paint? You seem to expand directly on that topic there…
As I said, this made me realize how similar things had been done in the past. We had a very sterile art history full of the same countries. I continued researching in the field and in museums and books and the first part of the book is about what I found and experienced. I gave examples: Here is an artwork from Zaire, and here is Paul Klee, and here is [A.R.] Penck, an artist from around my generation. They all look essentially the same. If today I painted like this, they'd say, "This Bedri guy paints like Penck." Nobody would say he paints like a Zairian. Because the behavior goes that if the Western artist touches something from Eastern or Southern cultures, he believes—and so do the curators and museum directors—that the copyright has passed on to him. When Western artists directly use work from other cultures, it's an "inspirational act," when a non-Western artist works Surrealism into their own pieces, they're accused of "derivative art." But in fact Surrealism itself owes so much to those cultures!
For years, in the '80s and '90s, I encountered curators from the West saying, "You're Turkish, let's see the Turkishness in your art." Or if you're Colombian, "Let's see the Colombian in your art…" always looking for an ethnic, folklorist touch, you know, the kind of clothing or artifacts they would buy if they went there as a tourist. If you meet a French or Italian or English artist, do you ask to see their Britishness, their Frenchness in their art? So the book had to answer to all the Devil's Advocates. It was defining our right to make and participate in Contemporary art… Do we have the right to make Contemporary art just like an American, or a French person? Or are we just their regionalized little monkeys?
What's funny is that when American art was still fighting to be taken seriously in the '40s, the art establishment attacked Jackson Pollock for doing something that wasn't in the "American" vernacular! And Pollock's answer ended up speaking for the rest of us, you know, saying that being just an American or Italian or otherwise "regional" artist means not having reached the universal level of art because art does not belong to any nationality. It is beyond the limits of borders.
[Jackson Pollock as quoted in Monkeys' Right to Paint, 1994]: The idea of an isolated American painting, so popular in the country during the '30s, seems absurd to me, just as the idea of creating a purely American mathematics or physics would seem absurd … And in another sense, the problem doesn't exist at all, or, if it did, would solve itself: An American is an American, and his painting would naturally be qualified by that fact, whether he wills it or not. But … the basic problems of contemporary painting are independent of any one country.
The establishment forgot they'd first labeled this Abstract Expressionist work as non-American, or derived from Europe. Pollock, Motherwell, Rothko all had to fight to say this art is universal. As time passed, and here came commercialism, and the museums and history labeled and identified them as American to the point where people look at it and call it American art. But Pollock first said this is not American, it's universal.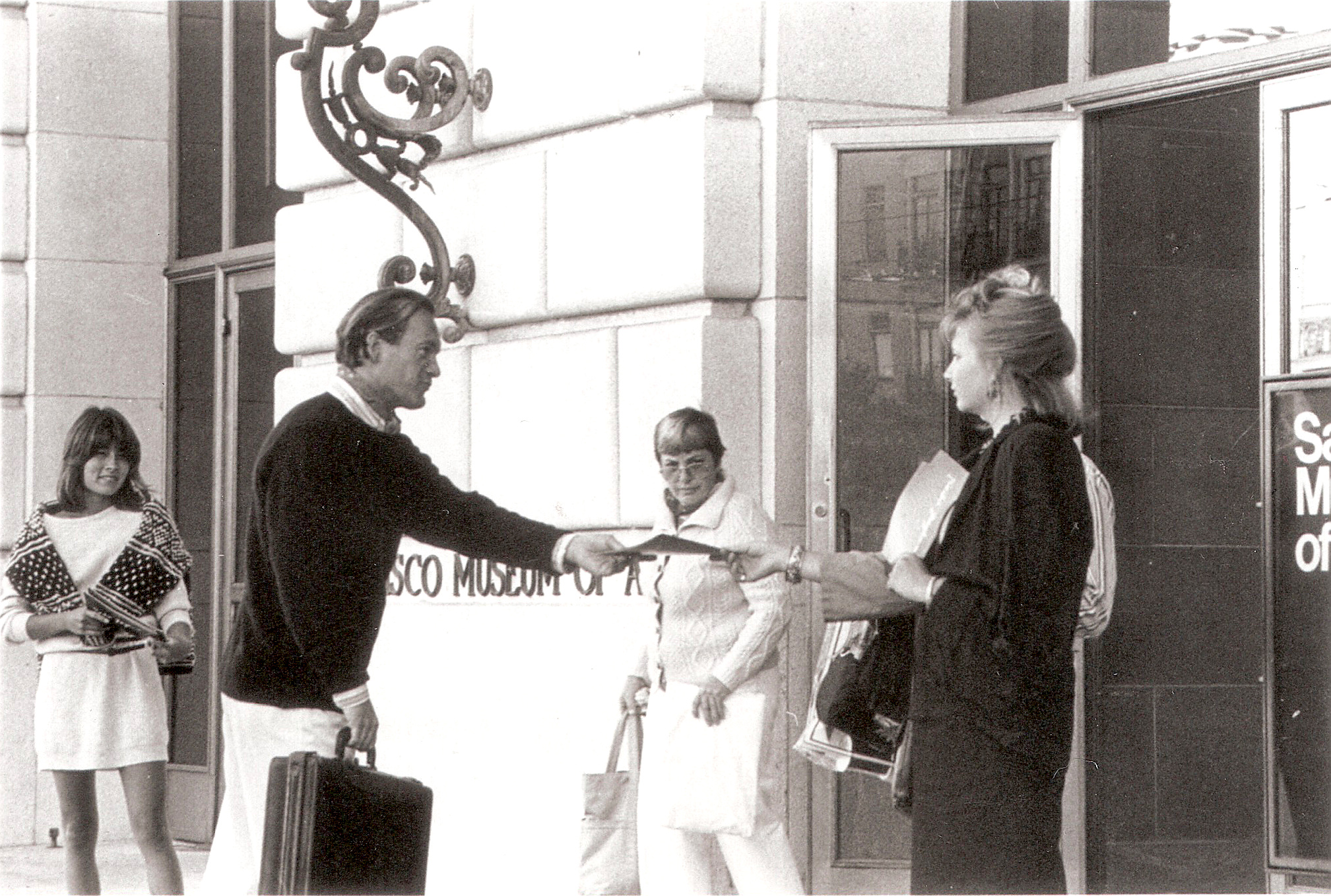 Did you find that your book had the impact you set out to make?
That book was a pioneering book for the rights of non-Western artists. I think it did change—the manifesto and the book—the vision and spirit of many art writers. Particularly the two most prolific art historians in Europe and the United States: Edward Lucie-Smith, from Britain and Peter Selz in the United States. Lucie-Smith started really looking after encountering those ideas and talking with me, realizing the kind of misuse of rights that had been happening. He really enlarged his scope and started traveling much more to Middle Eastern countries, and to Asia, all around the world.
I made my "Cultural guerilla raid" on the SFMoMA on June 30-July 1 1984. The first day was the opening of the exhibition. The second was the date of the symposium… there were many important speakers including Clement Greenberg and Marcia Tucker from New York, Achille Bonita Oliva from Italy, and Peter Selz from California. Henry Hopkins was the SFMoMA Director. I entered the symposium after distributing my Manifesto and the contents of it was raised by several persons. Hopkins was very evasive and apologetic and vowed to be open to all races.
Some time later, I visited the office of Peter Selz at UC Berkeley. He was not there. I left him a note with my name and number. He called me back the next day and left me a message. Up to today I can hear his voice in my brain telling me his number. I called back. We made an appointment. He came to my studio. We became very close. Peter was so open with me, he was the opposite of all the walls I had encountered in my life in America. In 1986 he wrote an essay for the catalog of my show at the Atatürk Cultural Center. He also wrote about me in his famous book Beyond the Mainstream.
After that—until his death few years ago—we kept a close dialogue and friendship. He always invited me—and my wife when we traveled together—to his home for dinner and Carole, his wife, always prepared a great table for us. He introduced me to other writers, gallerists, etc. He was almost like a second father in the USA for me. He credited me for the contents of my Manifesto and said that he liked not only my art but also my revolutionary ideas as culminated in Monkeys' Right to Paint.
How would you personally define the rights that you've been talking about, these rights of the artists? Is it the right to self-determination?
There have been so many shows called Expressionism, Pop Art, Postmodern Art, or Political Art that over the years were almost purely all-Western. In the last few years we've seen it changing little by little with curators now, as I said, looking more broadly. But when you look at the retrospectives chosen, you look at the monographs published, or the major feature articles in major art magazines, you see that 80-85% remain purely Western.
Or take the purchases by major museums. In the Olympics, or better yet the football World Cup, Morocco can make it to the semi-finals and there's nothing the rich countries can do. If they won they won. Or if this runner from some African country did the 100m in 8.7 seconds or whatever, he'll get the gold and there's nothing they can do. And it's all visible data. On the contrary, in the art world everything happens behind closed doors.
In the past 40 years I've been to the same museums and I've seen the same artists: Basquiat, Haring, David Salle, Julian Schnabel—who's my friend and I like his work, don't get me wrong. I'm not putting any of these artists down, I respect them. Or Andy Warhol, David Hockney, Frank Stella, etc. The point is that the museums have been taken hostage by the galleries. See if the galleries deal with the artists I mentioned, they can make the price go up, saying "You better buy Basquiat now, because he's about to have another retrospective in Zurich which will be followed by another retrospective in Chicago, followed by Vancouver. So, you better trust me, we might be adding another zero to that price soon." The collector feels he has to buy right away.
Here in the US, in most of the museums, the state changes, the museum's name changes but so much of the works on display are always the same! A few Warhol, a few Rauschenberg, a few Ellsworth Kelly, a few Basquiat (if they can afford them). And the American art public is condemned to see only them.
On the other hand, I look at my 4Ds [Baykam's lenticular paintings]. I went to the Broad again recently and saw many nice works, but if those 4Ds were there, I think they'd attract a lot of attention because people have never seen them. Now there are some lenticulars popping up here and there but not comparable in size. And I've been doing them for 16 years! But only the people who went to my gallery or saw the minor museum shows in Berlin, Paris, and LA are even aware of them. I know there are many artists from Tunisia, or Colombia, or India, or Iran that are in similar situations.
You went back to Türkiye after CCA, when exactly?
After '87. I started to do a lot of political art because I felt I had to make the public aware of the dangers of the rise of Islamic fundamentalism. I did very large live installations with sound and music and edited newspapers, with interviews.
These blockbuster exhibitions in Türkiye could be apolitical or political. I called them "LivArt" and they meant shows that could touch the five senses: things to smell, things to touch, things to see, plus humor, eroticism, theater, actors I'd place in situations in the gallery… Do you know how many contemporary art museums my country has? Atatürk erected a museum in Istanbul, and then after his death we erected one in Ankara. Since then we have opened no museums. Zero. And we have 111,000 mosques. There are some private museums opened over the last 15-16 years. My art center is private, Istanbul Modern is private. But the state has done nothing. So the relationships between museums internationally that are so important to exporting work and raising awareness is zero.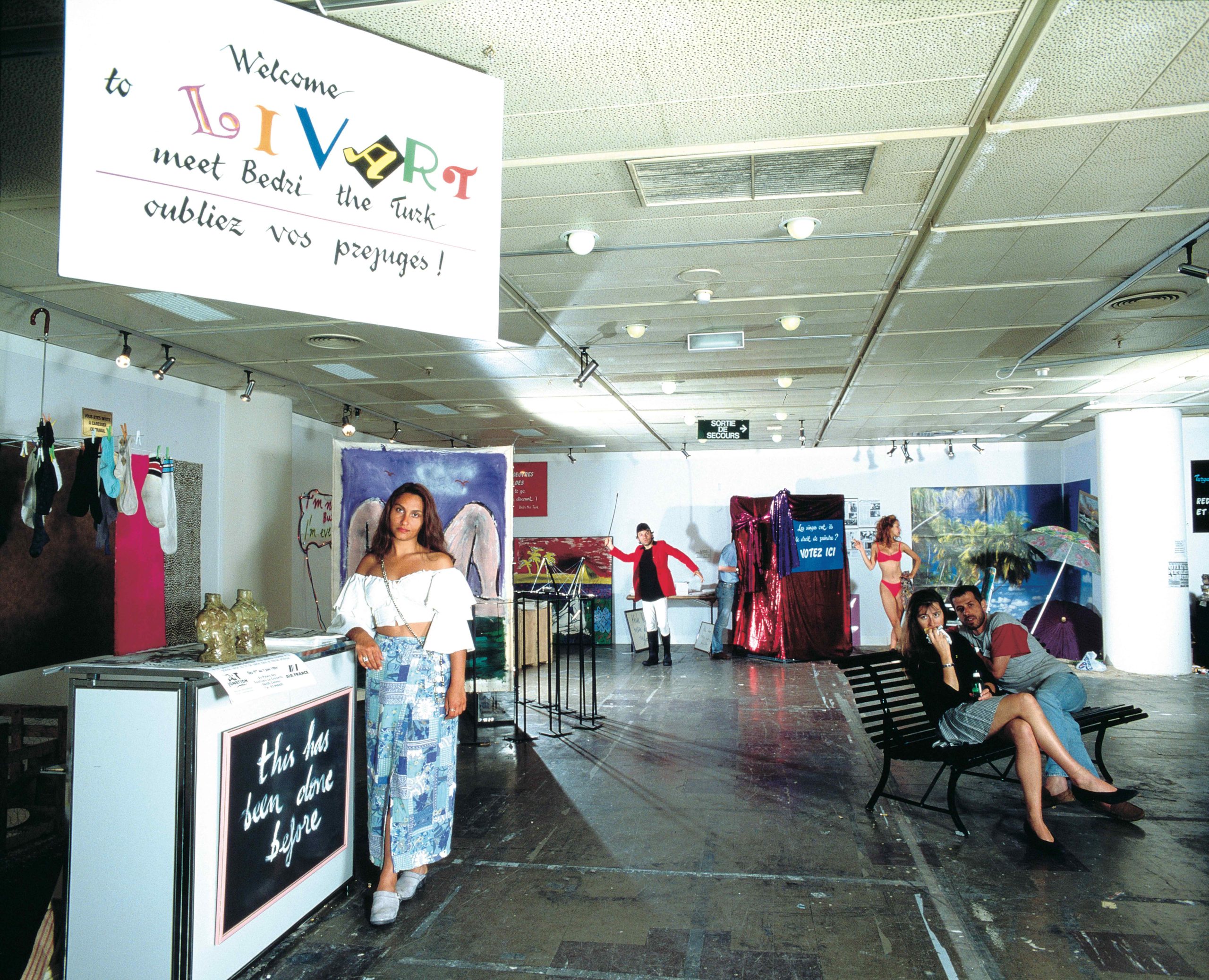 But you've still managed to have major exhibitions—
Only from my own force and the art, nothing through the usual channels… I had big shows in Havana, at the Museum of the Revolution, and I had big shows about the '68 Generation—the famous 1968 movements. On the 30th, 40th and 50th anniversaries of 1968, I had big shows. The first one, the 30th, was my solo show. The 40th and 50th I had a couple of works in them but they were large shows I curated.
The LivArt thing had a big press impact on Le monde in Paris, the Guardian in London. I also had an installation with real machine guns and cannons that were transported to my show that depicted Atatürk's time in a large cultural center bearing his name. You had soundtracks of war, battle installations, in a way it was a political version of LivArt.
And where did you go from there?
For years I worked on transparencies of paintings. I call them transparent layers. Then I did transparent photos, photos printed and laid out.
You were painting layers—image on image?
No, I was double-printing photography. Like the one called My Mona Lisa. The bed is made out of a photo of the ocean and then another photo of the girl. So before coming to those 4Ds, I worked on the transparency of paint, of photos, and the depth of materials. Like using mylar on some parts, or fabrics that are transparent and using them on the canvas.
How would you precisely define "transparent layers"?
Abstract canvas works with very many thin layers of paint overlapping each other. My best work from this series is in the collection of Istanbul Modern, called A World on Its Own.
Right before the 4Ds, was my series Lolitart(e) that used some large collages, including textiles and mylar, with transparencies, as well as my collages. The most important work of that series is Segolene, Ma Reine.
So after working on those when I met the lenticular surface I knew I'd met bingo! I knew it would reach a greater depth and I knew I'd succeed in rendering this depth. So those 4Ds are the result of, on the one hand, 30 years of collage work, but also, especially in the last 10 years this transparency concept. I'm an artist who doesn't like to repeat himself.
So you were, in a way, eschewing a signature aesthetic?
When I was 24, I wrote a manifesto—my first—saying I want to be recognized by my attitude, in constant development, always changing my line of thought. I didn't want to be recognized by a repetitive visual image that's going to become my grave. In Türkiye there were a lot of fights in the '80s between abstract artists and figurative artists. But I laughed because I couldn't be defined as a figurative or an abstract artist. According to my mood, sometimes I would paint abstractly, sometimes I would paint more of a story… it would be very real, according to what I lived or what I felt. There would never be any law that says you can paint with the figure or paint without the figure.
When I had to convince people about the political dangers in Türkiye I had to give them a touch of history, but with a slap in the face, with installations carrying heavy soundtracks and this and that. Then came LivArt. Or sometimes my ideas didn't have their counterparts directly in visual art so I wrote a novel, The Bone. Or when teaching an art history class three years ago… 30 years ago I had already done a summary map of this [pointing to the Art History Map]. But this time I decided to be very precise. The Art History Map developed itself in front of my students. In five months they saw it coming to life. When people ask, how long did that take you? It took me five months, but 50 years plus five months, like Picasso said. 50 years of comparing, researching, visiting, thinking, agreeing, disagreeing… This map makes some interesting suggestions to anyone open-minded. For example, that Pop art starts with Hokusai.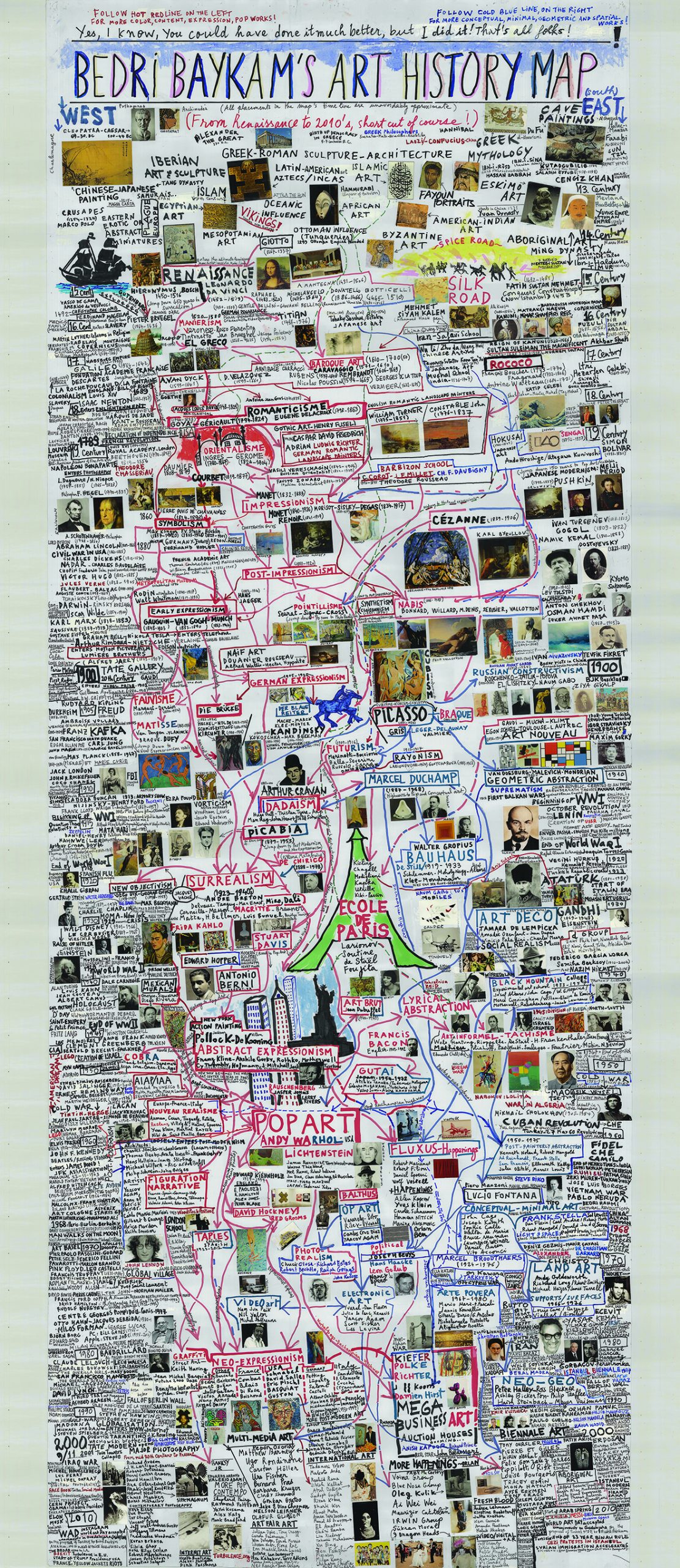 So that would be both an organic conception but also a concerted attempt to resist the "global art history" narrative—
That has been forced upon us!—
Right, the "authoritative" encyclopedic narrative, you wanted to resist that—
Yes. For one, an American art historian could not have done it. They just don't look equally at the West and the East. On the other hand, this generation works with computers. And on computers you could not develop it. You're limited to a space like this [he outlines the size of a computer]. You had to create this piece in space, as an artist that works with his hands—his hands and his eyes and his brains. So I came up with this relatively tall and narrow map summarizing all art history and in parallel to that the political and sociological history of the world, mainly in detail from the Renaissance until the start of Covid.
And yet, you seem to be so heavily influenced by American popular culture. How were you exposed to American culture growing up in Türkiye? And was that something you culturally embraced at the time or was it something you were skeptical towards?
I never resisted American popular culture. I embraced it. Turkish newspapers had many comics and cartoons, especially Western, particularly one paper I followed. This is how I learned to read and write before school, because my parents sent me to French school because they said "he's going to become an artist."
Is that what drew you to the Kennedy assassination? [Baykam has produced a variety of works that touch on President Kennedy's Assassination on November 22, 1963.]
To me that moment is so solidly engrained. I heard it on the radio—there was no television for me until I was 11. We heard it on the radio and everybody was in shock. The new generations would not know that, because American presidents are no longer much loved around the world. But Kennedy was like the president of the world. Probably 60 or 65% of Turks cried—including the Leftists. Because it was for us so taken for granted how much he was fighting for universal peace, he didn't want nuclear war, he was bringing rights to Blacks, he was trying to defend the poor and the middle classes, it was obvious. We felt so close to him… Plus the way he handled his life was so attractive—he was on postage stamps.
Kennedy was even not just a part of political life but pop culture. In those years, Türkiye and the United States were very close. It was later, after Kennedy, after the Vietnam War accelerated, and the US' growing imperialism that we changed our perception… Nicaragua, the Iraqi invasion, etc. But all those years when I grew up the reception was total, we had nothing against American culture.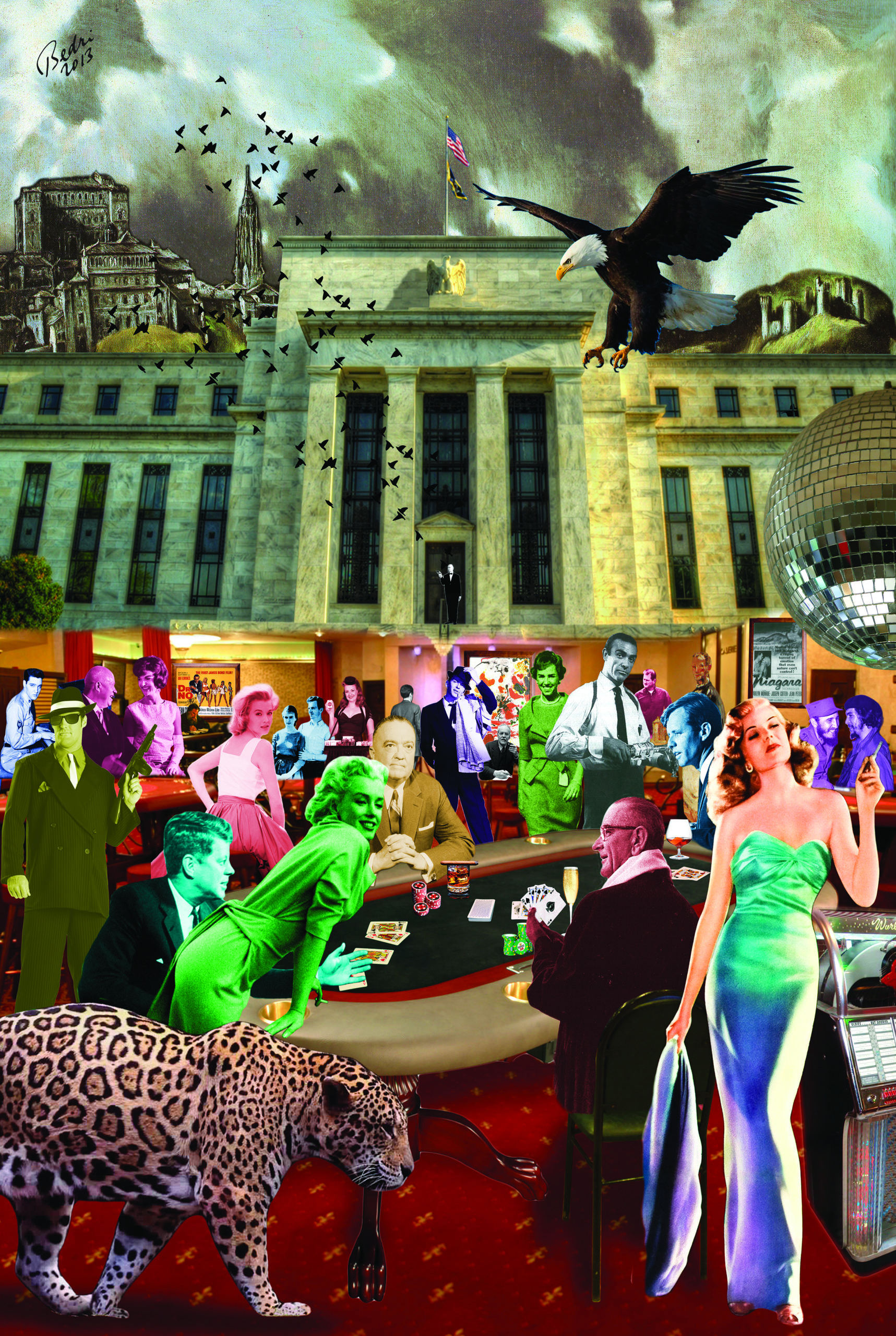 Now why Kennedy was killed, my show explains it. Next September I'm going to have a show on the assassination of Kennedy in the same municipality where Kennedy held his speech "Ich bin ein Berliner." And this is a show with 4Ds and paintings and videos and installations, and newspapers from all over the world covering the whole setting.
You see America had such a good image after World War Two, saving the world from Hitler, from fascism. After that, can you imagine a country going to Iraq supposedly to find weapons of mass destruction, coming back saying "Sorry, we goofed, but on the way we killed 1.5m Iraqis. We didn't find any weapons of mass destruction either, it was the wrong info"?
One of the more infamous events in your life is your stabbing. Could you tell us a little about that?
It was in 2011, after the initial World Art Day proposal was accepted in Guadalajara on the 2nd of April. Two weeks later back in Türkiye, on the 18th of April, I was stabbed almost to death.
Was the perpetrator apprehended?
He was caught, imprisoned, and stayed a total of 9 years in prison. He died in prison.
What was the official reason for the stabbing?
It was obviously commanded by a religious sect.
There's a friend of mine, Mehmet Aksoy, who made a sculpture in Kars, in eastern Türkiye. There is a long line of struggles and misunderstandings between Turks and Armenians. But this was meant to be a "Monument of Humanity and Friendship" between Turks and Armenians.
Which is not the official line, correct?
Erdogan wanted to destroy this monument.
Because the state doesn't acknowledge the genocide—
It's a long story. Let's say this would turn into a different interview if I answered that in full detail. This was supposed to be a monument of fraternity between Turks and Armenians. We said, hey whatever happened in the past, please bring your archives and historians and we'll bring ours and we'll talk friendly and we'll have an impartial meeting, bring a judge or what-have-you from some other country and we'll see what happens and we'll do whatever it takes. But Erdogan, who supposedly also wanted this big meeting between historians and archivists, wanted it to be destroyed. So we put on a press conference to protect this monument from destruction.
After the press conference, I was going back to my car with two of my assistants to put away my books and dossier, etc. Now two minutes earlier someone had asked me if I was going to my art center, they're going in that direction. I normally take hitchhikers, but this time I was not going that way. In fact I had an appointment at the art center with a collector but by some miracle that day she canceled. So, I was going home to work on the catalog for my new series about the history of the Roland-Garros tennis tournament which I was preparing for the Roland-Garros Museum. If I had decided to go to the art center, this guy would have hopped in the car, behind my assistant and me, and he would have slashed our throats. At least mine for sure, as he stated later at the police station.
He had been following me for a week or so. As he confessed later, he had heard us talking in the lobby before the press conference. He must have heard us joking "it's crazy we gotta have bulletproof vests to defend a monument!" And because he didn't understand jokes—thank God—he really thought we had vests. So he decided to put the Rambo knife he was carrying here [gesturing to his side] instead of into my chest.
So as I'm putting books in my car I feel this boom in my side. I didn't think I was stabbed, I thought it's probably some old friend, who hasn't seen me in years saying "hey where you been!" with heavy hands. Suddenly I turned and saw the huge knife with blood that he had put in me and I realized I had been expecting that attack now for 25 years… exactly 25 years.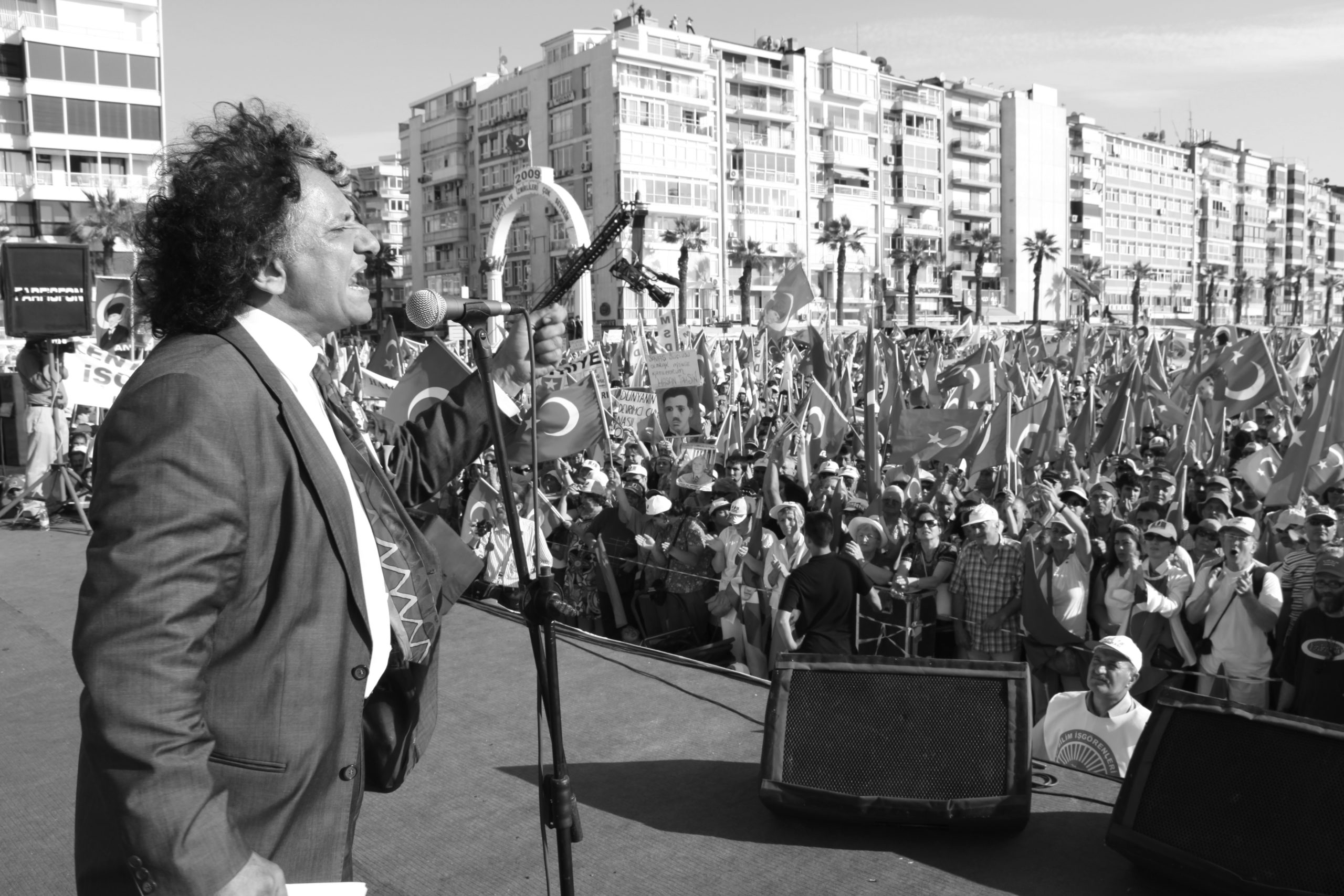 Since you started the political work?
Yeah, since I came back from the States when I was raising hell in articles and speeches against Islamization. The doctor who saved me told me "You have two birthdays now, not just April 26 but also April 18 because today I remade you." He said it very bluntly.… The Rambo knife was so close to my main artery—three millimeters. In those years I was a little chubbier and that saved me life. The doctor said I would have died in one minute, two minutes.
Now I'm a Turk, I'm secular, democratic. Mustafa Kemal Atatürk created the modern Türkiye, the secular, democratic Türkiye, with the universal rhetoric for peace and brotherhood. Those who follow his ideas are called Kemalists. When you're a Kemalist you can be killed with a bullet, you can be imprisoned, but they can never scare you. It's a different mentality. When I got stabbed, eight different writers who wrote for the same newspaper that I wrote for, Cumhuriyet (like the equivalent of Le monde), had been murdered—eight of my close friends with whom I talked daily about politics. In 2008-11 hundreds of journalists were placed in jail, at least 15 of them my friends, Kemalist writers. They stayed in jail for eight years.
The religious sect that infiltrated the state and made a failed coup d'etat in 2016 had also prepared a warrant for my arrest, but later they were arrested themselves some eight-to-ten years ago. But none of these things end up scaring you because you live in a geography where the art, politics, and the literary/journalistic life are intermixed. Because you have to be in a free country to have free expression. All these values are worth fighting or dying for. It's difficult for the Western mind to really understand the depth of those problems. France, Germany, and the US have problems but they don't become like Iran, Syria—like Türkiye, which is in a better situation compared to Iran, but it's still bad—much worse than in Europe.
Do you consider yourself an artist within a specific lineage or progression?
Picasso is my "friend" from art history, and I have a big respect for him. His versatility, the way women influenced his art, the way he changes his style dynamically and can go between them, the way he doesn't repeat himself. He has several defining images, not one, not two. So all the work we do doesn't look terribly similar.
The fact that today I'm not in the same big museums does not change the state of my ambition. You know of course the big example is Van Gogh. If I was a tennis player and I didn't compete in major tournaments for lack of funds or whatever after I turned 40, I would have said, shit I goofed. And I'd become a coach. Art is not like this. Maybe in 50 years I will be way ahead. What matters is the production of everything we talked about. What matters is the uniqueness in all these multiple struggles made simultaneously. It's like having a duel with five devils at the same time. Because good art gives you breath, gives you vision, and when you know how to handle it it's as necessary as air in your system… it's wind in your sails.
My work doesn't look at all like David Hockney, but I like his work very much. I find him very stimulating. I like very much an American that not many know: Stuart Davis, who's a precursor to Pop art… maybe 15, 20, 25 years before the birth of Pop in the 1960s. His famous matchbox and things like that. So there are artists like that or from past centuries. Like Marcel Duchamp. My work does not look like Duchamp and the readymades. But I do parallel works with Picasso and I do parallel works with Marcel. Right now I'm preparing a show in Paris of my interpretations of Les Demoiselles d'Avignon, all types of versatile works based around it. It has to do also with my work that's in the Istanbul Modern, I wish I had a harem.

So you paint homages sometimes—
Yes. Especially since 1987. I did many works around Ingres, Gérôme, Picasso, Hopper, Van Gogh, Delacroix, Géricault, Picabia etc… I also had a joint show with Edvard Munch at the Pinacotheque Museum in Paris. Also, one of my most important series, EmptyFrame, is an homage to Duchamp.
And yet you had quite a graffiti period in New York in the 1980s. Where did that come from?
I started doing graffiti as a reaction to the problems I mentioned surrounding my Manifesto and this fight against prejudice. I was a first-generation New Expressionist artist, but of course, none of my works entered the shows labeled as new German painting, new Italian painting, new French painting, or new American painting! Because I was a Turk and the Ministry of Culture in my country had no museum and no relation with foreign ministries or museums, they just had no idea what was going on. So I started spraying all over the streets of Soho in New York City, slogans like "Meet the Turk" since I, the Turk, could enter none of these exhibitions! Then my graffiti developed as full sentences, written with the spray can in Turkish. I wanted New Yorkers to see and feel languages and worlds they didn't know.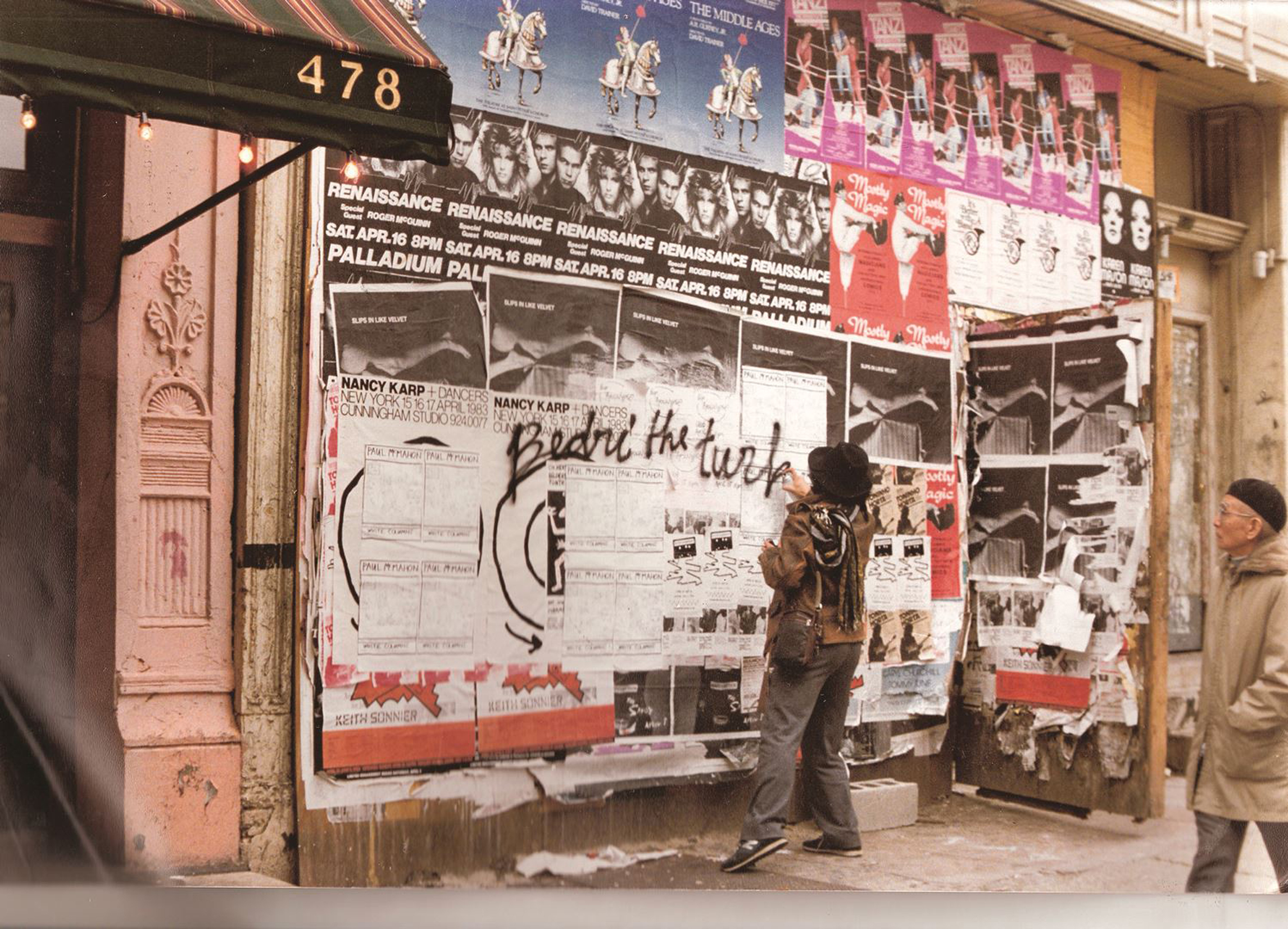 Beyond pop culture and Pop art, your paintings allude to history and to literature, and you write as well. Two recent pieces include homages to Jack Kerouac and Charles Bukowski. I was curious why you chose them specifically. As writers they are diametrically opposed to the roles that you've espoused, which are more reminiscent of André Malraux or Vaclav Havel… Why'd you choose these misfits who eschewed public life completely?
That's a very good question. Sure, my political struggle can be viewed in the lineage of Malraux or Havel, but within my art, within my boiling brain, my influence zones would be much closer to Kerouac and Bukowski, and to Arthur Rimbaud or Baudelaire, or Kafka.
In CCAC, there was a wall done in the Siqueiros style, capitalism v workers, the way Russians would do anti-capitalist murals. Well, in the school newspaper I wrote an article against those murals. I said look, we're in one of the most advanced schools of art in the world and these walls are always in front of the students, so dominating, so didactic, it kills me. Of course, the teacher who was responsible for the walls got angry and wrote a reply. And then I wrote back and there was this back-forth going on in the school campus—again the rebel-agent provocateur in action.
So one day I was walking on campus and the literature teacher, whom I knew but I wasn't in his class, stopped me: "Are you the guy writing the articles about the walls and the murals?" I thought shit he's probably going to chew me out but what can I do? I said "Yes, that's me." "Well young man, keep on writing…. Don't stop." I was relieved and thanked him. The man was Michael McClure. In '82 I didn't know how big he was, that he was one of the big Beat generation names. But I felt I got this "go ahead my friend" from the Beat generation. I wish I had taken his class. There's a Turkish equivalent to Bukowski in one of the 4Ds, the Turkish writer Erje Ayden, he lived in New York in the '60s and '70s. He was a friend of de Kooning's. He had some cult bestsellers like The Crazy Green of Second Avenue. I translated them to Turkish and published them in Türkiye.
Do you believe there is a purely aesthetic or spiritual realm to art, as in art as play or art as prayer—a realm independent from the political—or is all art inherently political?
It can be very political or very down-to-earth, or very inclusive, or very solitary.

So even as an outsider, a non-establishment, non-Western artist, with this emphasis on politicization you find you can have a private, spiritual artwork that exists outside the realm of the political?
Yeah. I've been producing art for 60 years. For instance if a museum said Mr. Baykam, we'll give you a mini-mini retrospective with only ten works, one of them would have to be The Prostitute's Room. On the right-hand side there is a broken mirror and you see yourself entering the room, one would be that. One would be This Has Been Done Before. Maybe one would be a drawing of The Cavalry from when I was six, one of them would be my Empty Frame. You know Kim Levin?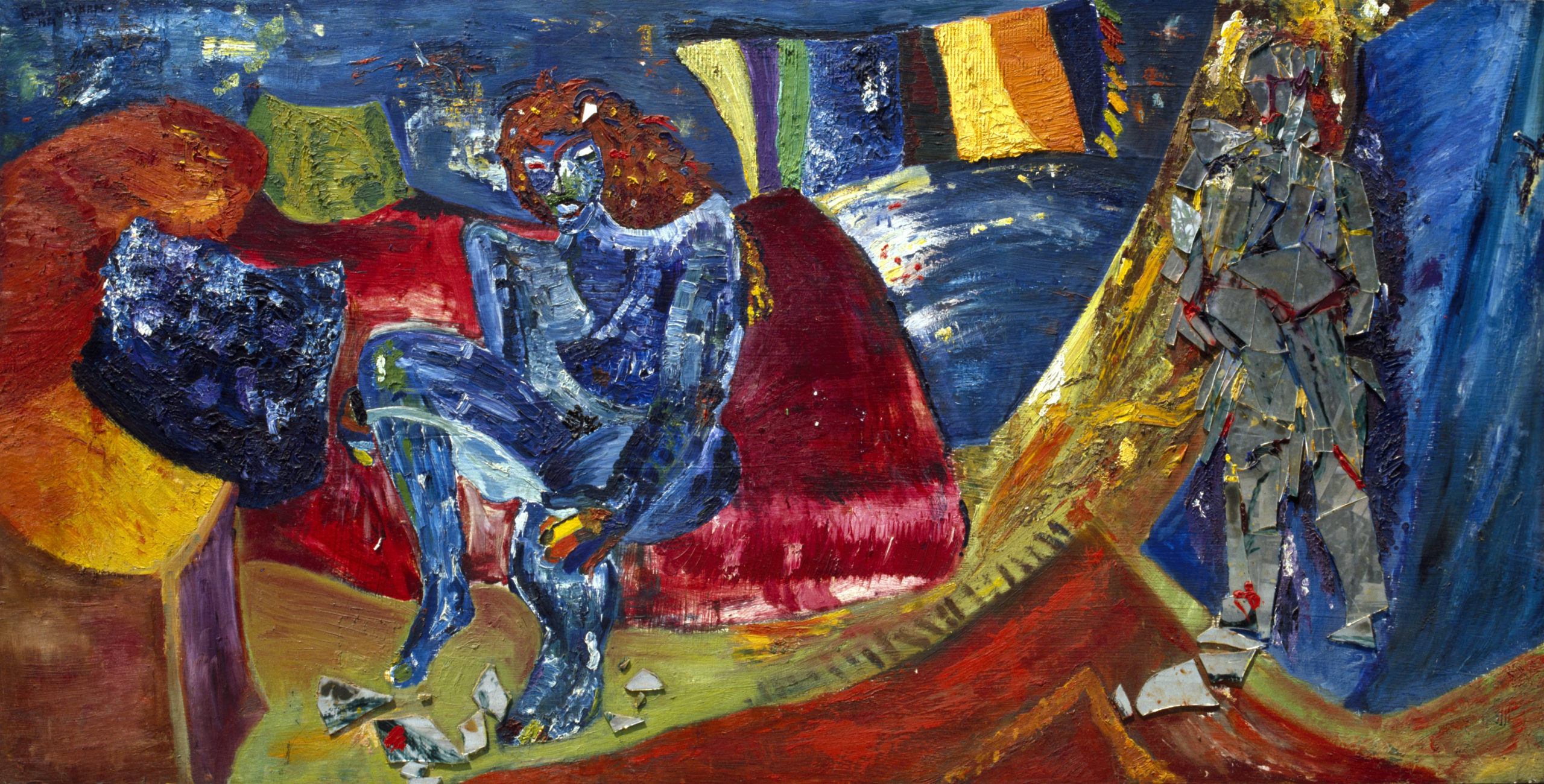 Yeah, she's an art critic.
Kim Levin wrote about the Empty Frame in 2013 following one of my show in New York. It would be one of them because of the way I criticize Koons and Damien Hurst for the way they keep taking this Duchampian readymade approach and try to endlessly overuse it to death. Here, I could just keep the chairs and make a new show with a bunch of chairs and put them in an installation, and I could call you and say, write an article that says, "Art, Is it for sitting?" Or is this readymade in use or not in use, or is it pure material? You can develop a thesis around all these lines and whatever else I can't even imagine…
I said, forget your obsession with Duchamp's object approach. Just go out into space, place a frame and it becomes a readymade moment. If I place the frame between us the frame is not empty because if I put the frame between us I see an image of you framed, as a frame would take in a painting. You could see a million different things, it would change all the time, with the light, the vantage point, your eyes… so the Empty Frame becomes a fabricator of images. Forget your obsession with the object and move on to space. Have readymade moments, not readymade objects. If Duchamp saw Empty Frame, he would have said, shit, I should have thought of that—I could have thought of that. But because he's not, in that regard, a competitive person, he would have smiled and said, listen young man, you played a funny mind game, I like it… There were ads in Asian magazines with me smiling mischievously which read: "Duchamp would have been damn jealous."