The Manchester-Mojave Transit
Michael Butterworth's "Circularisations" at Art Queen Gallery
Zara Kand
August 24, 2023
Circularisations, by Michael Butterworth. Courtesy of the artist.
EARLIER THIS SUMMER, Art Queen Gallery in Joshua Tree presented Circularisations, a collection of thought-provoking works by Michael Butterworth originally published in the British New Wave SF magazine New Worlds in 1969. Curated by Space Cowboy Books, the show blended the elements of alternative art, poetry, science fiction, and New Wave music that have defined Butterworth's five-decade output as a genre-bending artist and writer. Based for all of his career in his native Manchester, Butterworth is best known for his science fiction novels and experimental poetry, his role as co-publisher (with David Britton) of Savoy Books, and collaborations with bands like New Order and Hawkwind. Far from the UK in a high desert town, this latest presentation of Butterworth's distinctive and sometimes daunting works has bolstered an already formidable underground reputation.
The exhibition offered viewers an unusual gallery experience, as the displayed artworks were in fact poems, adapted into diagram-like visuals. Alternating between black and white backgrounds, seemingly nonsensical lines of poetry were assembled in circular motions, set against the dizzying, reflective aluminum panels of the gallery walls. At first glance, the works might have seemed cryptic, but when examined long enough, their meanings became visible. Once adjusted to the unusual placement of the words, the viewer could then draw correlations between phrases in whichever order they chose. Ultimately, these were literary experiments which questioned how we might receive both visual and textual information at once: If words became images, might their symbology change?
According to Butterworth's artist statement, "Circularisation came about in part from an Aldous Huxley-inspired LSD experience during which the word 'anarchy' in a front-page newspaper headline about strikers in a car plant had the explosive effect of literally enveloping me in an explosion of images of chaos—far more than reading a newspaper normally would have done." Butterworth was spurred to break down language from its usual frame of reference and challenge the linearity of the written word. His works in this series focus on anti-war sentiments, especially in response to the war in Vietnam. Poetic fragments such as "Atom war – A no-truce sequel" and "Remarque trench fire darkness" crossed with sensory-specific phrases like "Edged calm warmth" added for emotional effect, and perhaps even a bit of cognitive dissonance.
It's apparent that various influences and affinities also connect him to the Dadaists and other revolutionists of the word in the earlier 20th century. Butterworth originally intended for these stationary images to be moving graphics, in which the individual lines intersected and rotated in clocklike fashion, to vanish and then reappear at the start of each loop. Although this series only ended up in print, the exhibition honored his vision by featuring a visual and audio installation of an untitled piece where a conversation about Christmas love and trench warfare on screen was accompanied by the sound of crashing waves.
Another, larger video installation in the center of the room showed Clara Casian's mini-documentary "House on the Borderland," a film about Butterworth which gave viewers an in-depth feel for the artist's history, including videos of him reading from his work. Notably, the film touches on Butterworth's co-ownership of the eponymous "House," a bookstore apparently named after a horror novel by William Hope Hodgson and the affiliated Savoy Books, a publishing house, which, in the 1970s, published and sold works persecuted for obscenity. Titles such as Charles Platt's The Gas and Samuel L. Delaney's The Tides of Lust were among the "black-jacket" line of edgy erotica which quickly attracted the attention of local authorities. These iconoclastic publications led to skirmishes with British law that resulted in police raids and battles over censorship. Butterworth, who at one point was jailed for a month, remained unrelenting in his advocacy of freedom of expression in the arts, eventually founding Corridor8, a journal of contemporary arts and literature.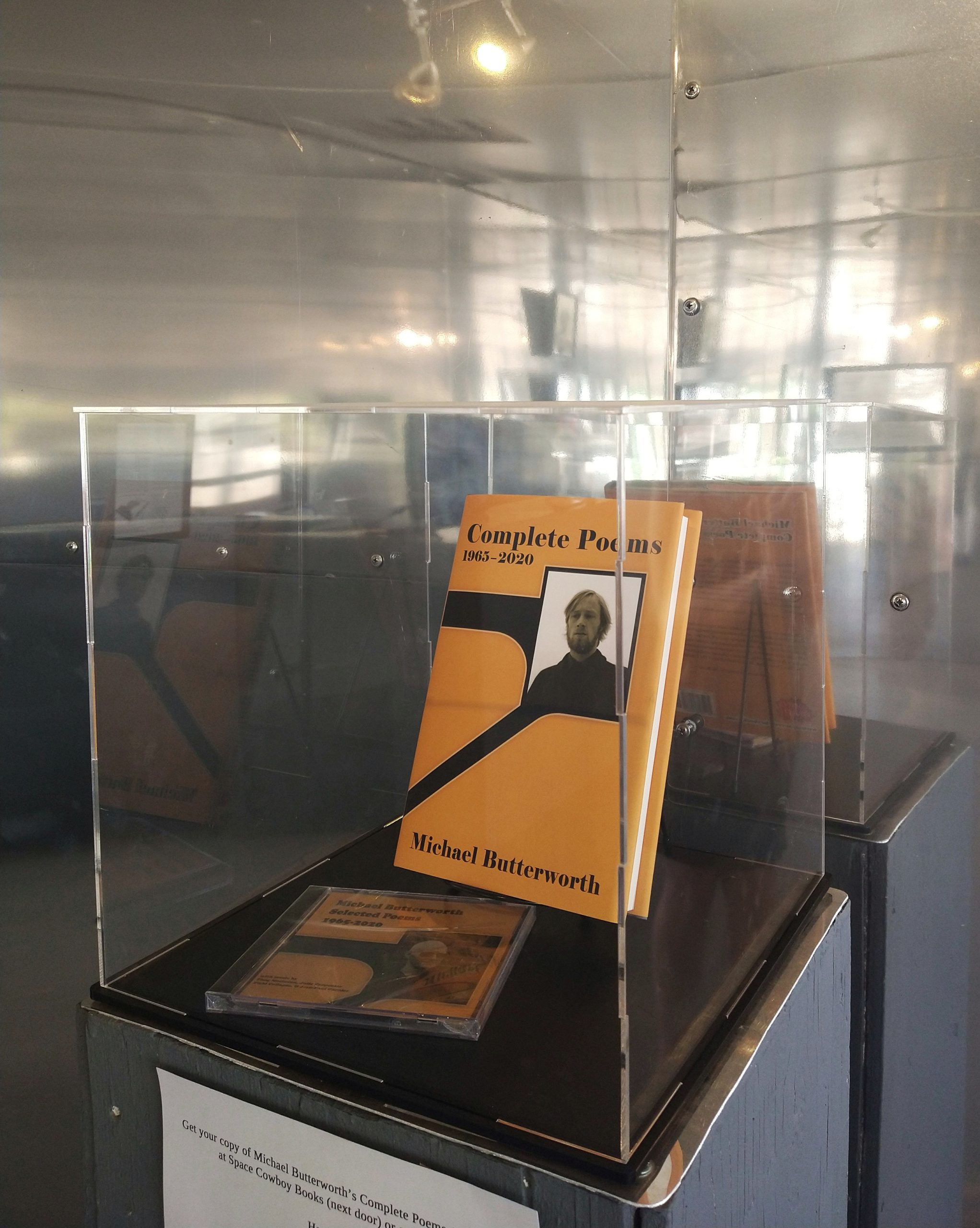 Circularisations coincided with the release of Butterworth's Complete Poems 1965-2020, published by Space Cowboy Books. The collection offers a personal window into the artist's polychromatic life, with topics ranging from outsider life in 1960s Manchester all the way to the tender reflections of a grandfather in the present day. There are also underlying apocalyptic and environmentalist themes meandering their way through many of its pages, solidifying Butterworth's connection to a deep foreboding tradition in science fiction, extending from Mary Wollstonecraft Shelley and Poe to Burroughs, again, and J. G. Ballard, who also published in New Worlds.
In the poem "These Strange Things Called Trees," for instance, he warns of trees going extinct should we continue our destructive behavior towards the environment:
These strange things called trees
Like missiles thudding
Nose-down in the earth
Stuck unwavering like brown knives,
Or darts, their alveoli flights
Sprayed like twisted limbs
In intricate array.
Inevitably, like the rest of Nature
They will succumb
To a grim determination.
In their museums
They will look even stranger.
Additional elements of the exhibit included photographs, magazine covers, and other memorabilia given proper museum-style treatment inside a shiny glass case. For those previously unaware of Butterworth, this rare retrospective provided an inkling of the breadth of his cultural production over many decades, as well as the unconventional ways in which he reconfigured the way a reader interacts with poetry.
"Circularisations"
Ran June 3 – July 31st 2023

Art Queen Gallery
61855 29 Palms Hwy
Joshua Tree, CA 92252