Youthfulness of Mind
Henri Matisse's paintings of the 1930s at the Musée de l'Orangerie
Jamie Aylward
July 7, 2023
La Blouse roumaine, Henri Matisse, 1940. Musée Nationale d'Art Moderne.
IT CAN BE DIFFICULT TO PLACE HENRI MATISSE'S ART in the many formulations of Modernism that emphasize angles and speed, confrontation and fragmentation, and the significance of second meanings. Picasso all but poked viewers in the eye at the pinnacle of his abstract portraiture, while Magritte spelled it out that his pipe was not, in fact, a pipe and Duchamp's found objects put provocation on a pedestal. But what does Matisse's La Blouse roumaine (1940) ask of us other than to look and linger? Even the early Fauvist jolt of Open Window, Collioure (1905) is delivered with sunshine, flowers, and a seafront view.
In Notes of a Painter from 1908, Matisse described his evolution beyond the "delicate sensations" of Impressionist painters as a quest "to obtain greater stability." Enduring an existence of familial and professional conflict in an era that variably sought and was subjected to monumental disruptions in every facet of life, Matisse practiced a modernism that could be conceived of as a search for solid ground. A recent exhibition at the Musée de l'Orangerie in Paris focused on that vigorous search, specifically in the 1930s when the painter's output reached new peaks of inscrutable charm and unflagging experimentation in the wake of artistic and personal strife. The purity of expression he ultimately achieved in his greatest paintings from this tumultuous period foreshadow the process and success of his constellation-like cut-outs starting in the mid-1940s, when ailing health rendered him immobile. Both cases suggest a Matissian modernism that aims not to reflect an unstable, industrialized world, but to persevere through an unfailing commitment to creative expression.
All the same, by the end of the 1920s, Matisse had lost the desire to paint. He wrote that he "had pretty well come to the end" of painting recumbent women and domestic interiors after more than a decade at work in Nice (where this show has now moved to). In March of 1929, while a flurry of retrospectives were being planned for him around the world, he told his wife Amélie that his "painting is going nowhere." On the other hand, he noted that his lithographs "flow of their own accord." But where were they flowing? Many were ending up in a new magazine called Cahiers d'art, and a thread of the exhibition documents how its founding in 1926 and immediate support of Matisse helped (re)introduce his early fauvist and cubist-inspired paintings, alongside more recent ones, to an art world that had seemingly tired of his work before he did.
Reproductions, particularly of the Nice odalisques, lithograph commissions, and articles abounded in Cahiers d'art, helping prompt monographic exhibitions in 1930 and 1931. However, as his biographer Hilary Spurling describes, "Matisse dreaded the public tributes, which he correctly predicted would deplore his latest work" and "consign his achievements firmly to the past." In February 1930, as curators were beginning to mount major shows in Berlin, New York, and Basel and his wife's health was at a low point, the 61-year-old artist left France for Tahiti by way of America, a dramatic break to set up the "pivotal 1930s" (as the show is subtitled) that followed.
Matisse set out for a new quality of light to replace the Mediterranean sunshine that had kept him on the Cote d'Azur for so long. What he found in Tahiti, he wrote, was a light so "ferociously beautiful," "alarming" even, that by noontime, he was frightened of it. This wounded response—they were only sunny days, after all—suggests just how vulnerable he was amid his personal and creative crises. He traveled without brushes, canvas or easel, calling himself a painter with "no ideas whatever," capable of "no pictorial reaction" to his environment.
Matisse considered the trip a bust. "Accomplished absolutely nothing except bad photos," he told Pierre Bonnard. However, this experience chimes with his willingness in 1908 to stand in opposition to the "fleeting impressions" painted by the likes of Monet and Alfred Sisley, two committed plein-air men who might have had a field day in Papeete. Writing about Matisse's trip in the essay "I'm No Traveler," Yve-Alain Bois put it simply: "He was not an impressionist… it was as a stimulant that he needed a change of light, not in order to attempt rendering it per se." The tension Matisse identified between an impressionist's light and frenzied canvas, representing "only one moment of existence," and his struggle to elucidate, as he put it, his subject's "essential character" underlies the masterworks displayed at l'Orangerie.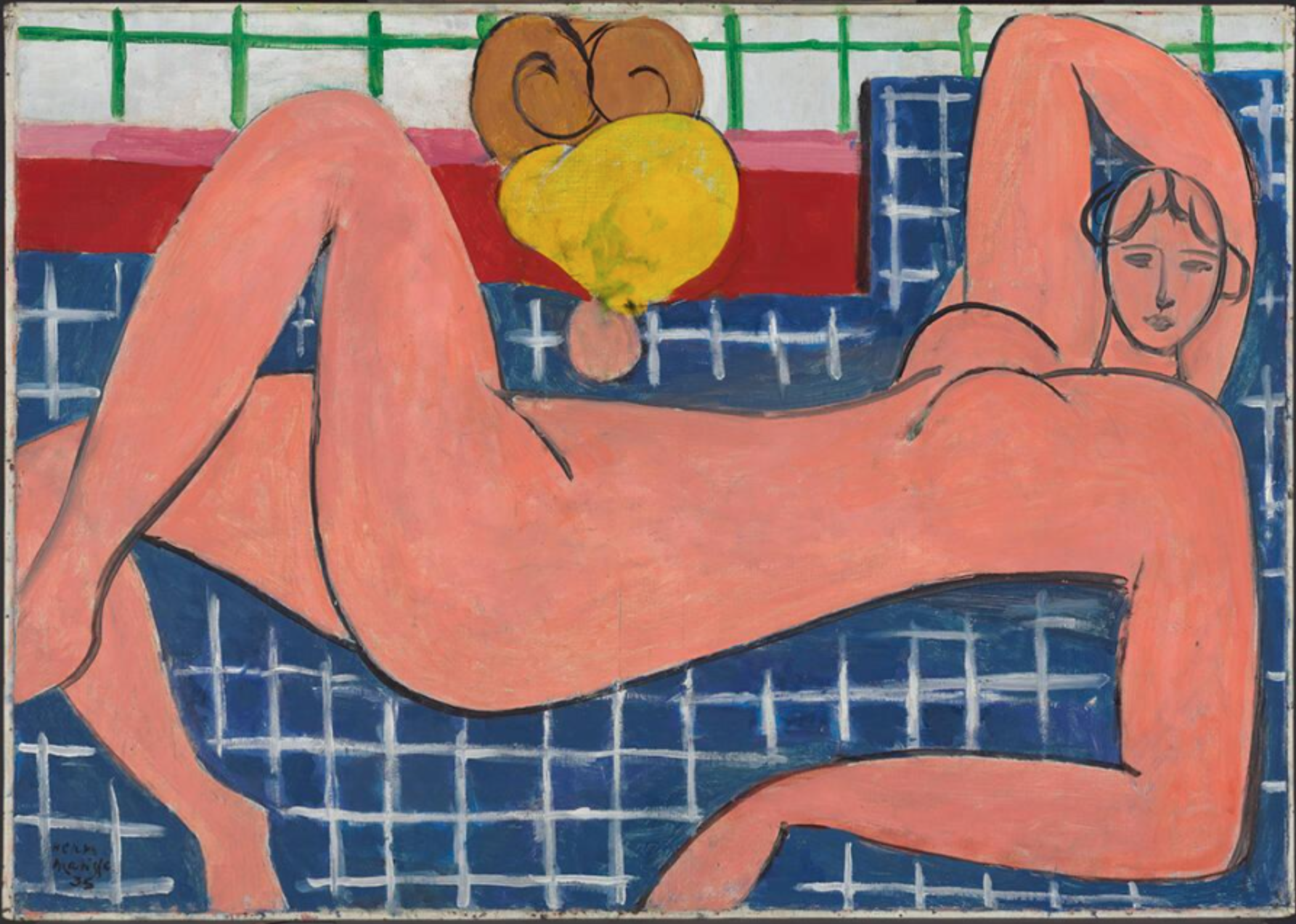 The centerpieces of the show are Large Reclining Nude (1935), on loan from Baltimore's rich collection of his 1930s work, and Woman in Blue (1937), from Philadelphia, where the exhibition was first mounted. Like many of his paintings from the period—Woman with a Scarf (1936), La Musique (1939), Saxifrages et citrons (1943)—these two make use of a gridded background. Whether playing the part of wallpaper, flooring, or bedsheet, this has the effect of casting its subject against a plotted plane like the parabolic output of a math equation. It's a stroke of bravado that gives the paintings a visible sense of analytical rigor. Likewise the documentary process Matisse employed simultaneously of photographing every stage of the painting's completion, repeatedly tweaking the posture and surroundings of his subject on the canvas. The process photos, included in the exhibit, reveal that Matisse only added the striking blueprint-like background of Large Reclining Nude after several iterations; similarly, in Woman in Blue, a naturalist interior reminiscent of his placid Riviera portraits gave way to a brain-teasing layering of three differently patterned surfaces.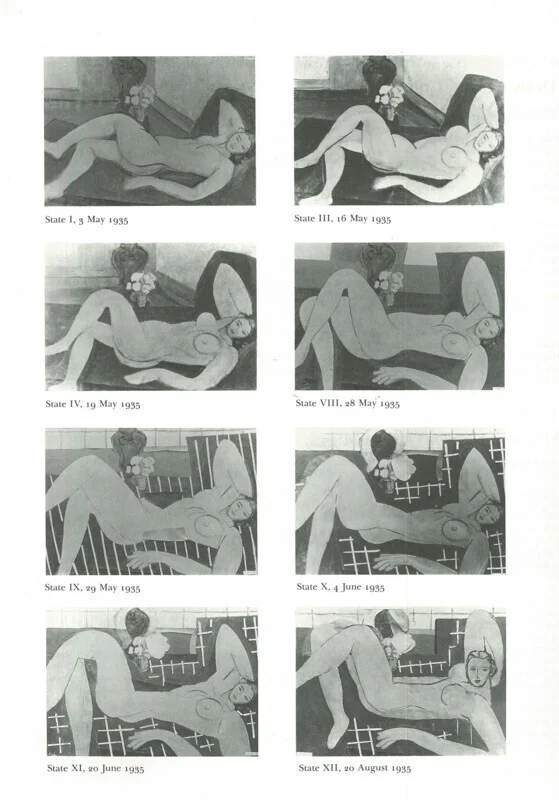 A camera also found its way into the studios of Picasso and Alberto Giacometti in the 1930s, but Dora Maar's photos of Guernica in train and Marc Vaux's of the Swiss sculptor at work were commissioned by Cahiers d'art as reportage for its readership. Matisse said he took copious photos for himself to make sure he wasn't moving backwards. Spurling notes that only months before starting on Large Reclining Nude, he told his son he "still had no clear idea of where he was heading." Later in 1939, talking about working with models, he told an interviewer he was interested less "in the representation of their bodies, but often rather in the lines or the special values distributed over the whole canvas or paper." Matisse almost seems to have reverted to a system of latitude and longitude to navigate himself out of years of profound creative frustration and chart a refreshed perspective on the painted female figure.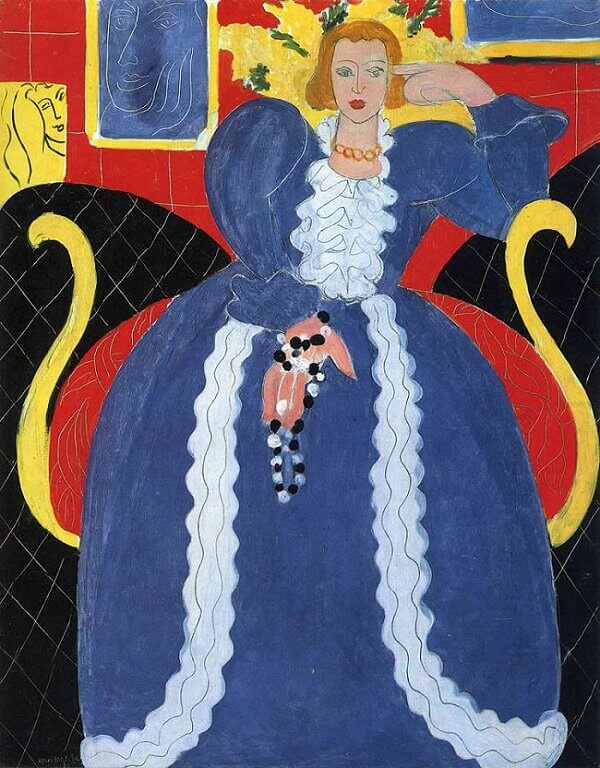 The several stages of Woman in Blue see her bolt upright from a forlorn sideways slouch; Matisse refined her hypnotic, arresting pose as he added the grids behind her. The interior centers its totemic occupant, whose left arm now gestures to her head with one pointed finger, perhaps hinting at the psychic struggles of the artist, or just reminding us to think. Thanks to a process which yielded the assertive, talismanic outcome of Woman in Blue, Matisse countered the floatiness of impressionism; yet while he'd written that he was willing to "risk losing charm" to do so, her enigmatic quality among frills and flowers only enhanced it.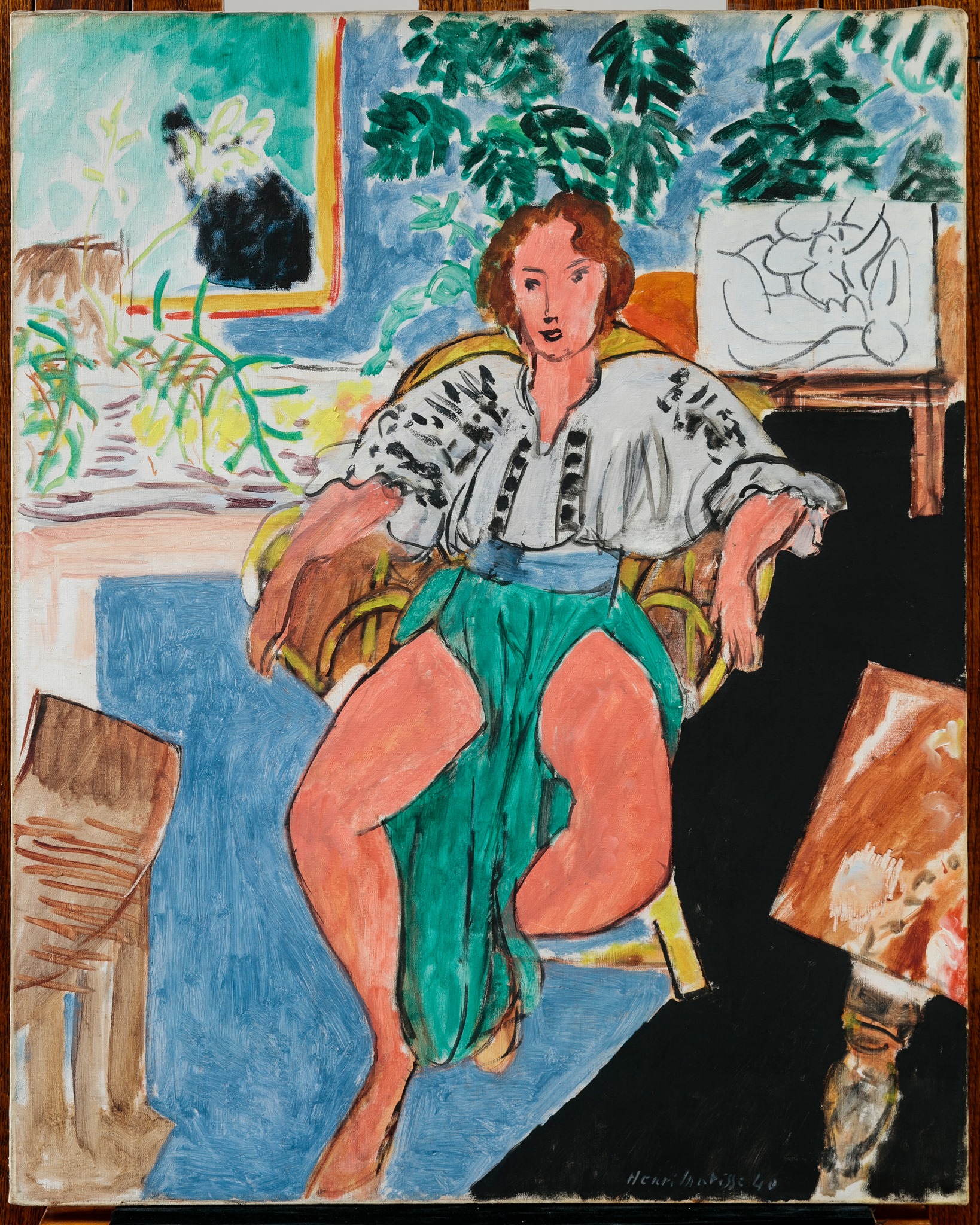 Reaching something of a cruising altitude in 1940, and working "with a certain liberty, knowing that my works are no longer awaited," Matisse painted a confident stability into the likes of La Blouse roumaine, Interior with an Etruscan Vase (1940), and Dancer Resting (1940), whose color block floor could almost be a sly reference to his abstract vision of Notre Dame from 1914. That these works—some completed in days—echoed but no longer required the careful analytical construction of Woman in Blue suggests that Matisse found a brief respite from the artistic and familial turmoil that had colored his career to that point. When he dedicated himself fully to producing paper cut-outs in 1945, he wrote that his only direction in painting would be to "go back over the same ground." Chronologically, this is his ultimate phase of painting, a fact in harmony with the unbothered, self-assured figures he depicts.
Yet Matisse's children Pierre and Marguerite would criticize most of what he produced in this last sustained effort at the easel. Along with new health scares and the dissolution of Marguerite's marriage and his own to Amélie in July 1939, Matisse found himself thrown back into a deep emotional crisis as the Second World War broke out, which scattered his family across France and beyond. A solitary bit of wall text at the close of the exhibit quotes Matisse in 1940 saying that he was pursuing work "to forget the tragic times we are all experiencing." Marguerite was arrested in May 1944 for participating in the Resistance and was being deported by train to a death camp in Germany when an air raid allowed her to escape. As Laurence Bertrand Dorleac describes in his essay "Ignoring History," Matisse wrote in letters that he was left "completely crushed" by his daughter's experience, which included being repeatedly beaten and nearly drowned by German officers.
Writing to his son months after France was liberated, the 76-year-old expressed his view that work was "the greatest human pleasure" and maintained the "youthfulness of mind into extreme old age." Yet work was never a simple distraction—satisfaction required a sense of progress: "Things must always be judged by the goal they aim at." Above all, Matisse stressed in 1935, "I put myself into everything I do…I am not trying to protect myself." These words, from an ageing man whose life and work had long been defined by pain and doubt, express the terms of a Matissian modernism that painstakingly transformed the anxiety of existence into confident expressions of beauty—never more so than in the decade on display here.
"Matisse. Cahiers d'art, the pivotal 1930s"

Musée de l'Orangerie
Jardin des Tuileries
75001 Paris, France