THE ART OF ASSEMBLAGE, the monumental exhibition at MoMA in 1961 curated by William C. Seitz, put assemblage on the art world's radar. The venturesome uptown Martha Jackson Gallery had included assemblage, along with collage and installation art, in New Forms—New Media, a two-part exhibition staged in 1960. In an essay for the Jackson show's catalog, Allan Kaprow emphasized immediacy, waste, and movement as defining the new forms, a foreshadowing of his own pioneering of the Happening. Both exhibitions were comparably ambitious, but the MoMA show reached a much broader audience and traveled to contemporary art museums in Dallas and San Francisco.
In his influential catalog essay for the MoMA exhibition, Seitz attributed the first assemblage to Picasso in 1912 (Still Life with Chair Caning) and noted that Jean Dubuffet was the first to use the word. The exhibition traced the "metaphysics" of the newfound genre, which Seitz defined in two ways:
1. They are predominantly assembled rather than painted, drawn, modeled, or carved.
2. Entirely or in part, their constituent elements are preformed natural or manufactured materials, objects, or fragments not intended as art materials.
Four California artists were shown at The Art of Assemblage—Bruce Conner, George Herms, Jess (Collins), and Edward Kienholz. For a taste of the panoply of objects used, there was George Herms' Poet (1960), a thick stack of dirtied papers with tattered edges, tied with string, perched atop a wooden table pedestal, with a rusted car horn pointing up from behind the stack; when combined into a sculptural form, these elements alchemize into a portrait of a scrappy poet: his voice—the horn; his words—the stack; his body—the pedestal. Bruce Conner's Last Supper (1961), also on view, listed only wax, rags, and "etc." atop a wooden table. Here it was not the visible objects that mattered, but what had been obscured by the thick wax-rag patina—soured and forsaken— encumbered by time and neglect. Conner described his sculptures as "stages from which the actors are absent, where the viewer must piece together the story from the remaining props." Assemblage turned the viewer into a detective, searching for clues and meaning.
These Neo-Dadaists, as they were sometimes called, focused their reaction on the increased materiality of their environment, choosing to address the explosion of consumer products rather than the flat printed matter that was ubiquitous before the Great War. Going beyond their predecessors, however, the Assemblage artists revealed that the quotidian could be macabre, rueful, preposterous. But the Assemblage artists differed from the Dadaists. As John Coplans wrote in a 1963 essay for Artforum, they "created a whole new side of absurd art that comments on man's fears, joys, nightmares, and ecstasies, but which is marked by a highly radical, anarchistic and symbolist sensibility loaded with current moral judgment." Following the large-scale dissemination of wartime images and stories of human cruelty and disaster, these artists were trying to stick the broken bits of detritus back together. What if you could take something from everyday life and break it, bend it, snap it, fold it, scrunch it, and "destroy" it in some way to say to your audience, "Here, let me show you what you have really been looking at."
In their post-atomic state, the California Assemblage artists had to choose between continuing on the staid path (painting, sculpture, collage) or explode the field, literally, and carry on with a medium that was completely new—visually, materially, spiritually and socially. Without the magnifying glass of the New York art establishment, California artists were forced to support themselves and one another through artist-run galleries and events. By deeply entrenching themselves in community, these artists were able to produce culture-changing events such as Allen Ginsberg's reading of "Howl" at Six Gallery, run by artists and poets Wally Hedrick, Jack Spicer, Deborah Remington, John Allen Ryan, Hayward King and David Simpson; Wallace Berman's Semina magazine (the narrowly distributed Assemblage magazine) generation; Bruce Baillie's film collective Canyon Cinema; and much more. It was here, in California, where artists were able to synthesize their fractured environment.
In the acts of assembling the ephemera of their daily lives, these artists also seemed to be saying, "We will not let you forget." Noah Purifoy and Judson Powell, directors at Watts Tower Arts Center (a Los Angeles icon of Assemblage), took to the streets following the Watts riots of 1966 and collected actual tons of the demonstration's residue, with no set purpose at the time. But the purpose soon became self-evident. When Purifoy and Powell invited other artists to work with their collected materials, the result was an exhibition called 66 Signs of Neon. "The distilled spirit of 66 Signs of Neon," the final sentence of the exhibition pamphlet states, "tells us that the world is a confused and fearful place, that God is difficult to find, that our philosophic systems are imperfect, that the only hope is communication between individuals: 'I DON'T HAVE ANYBODY BUT YOU!'"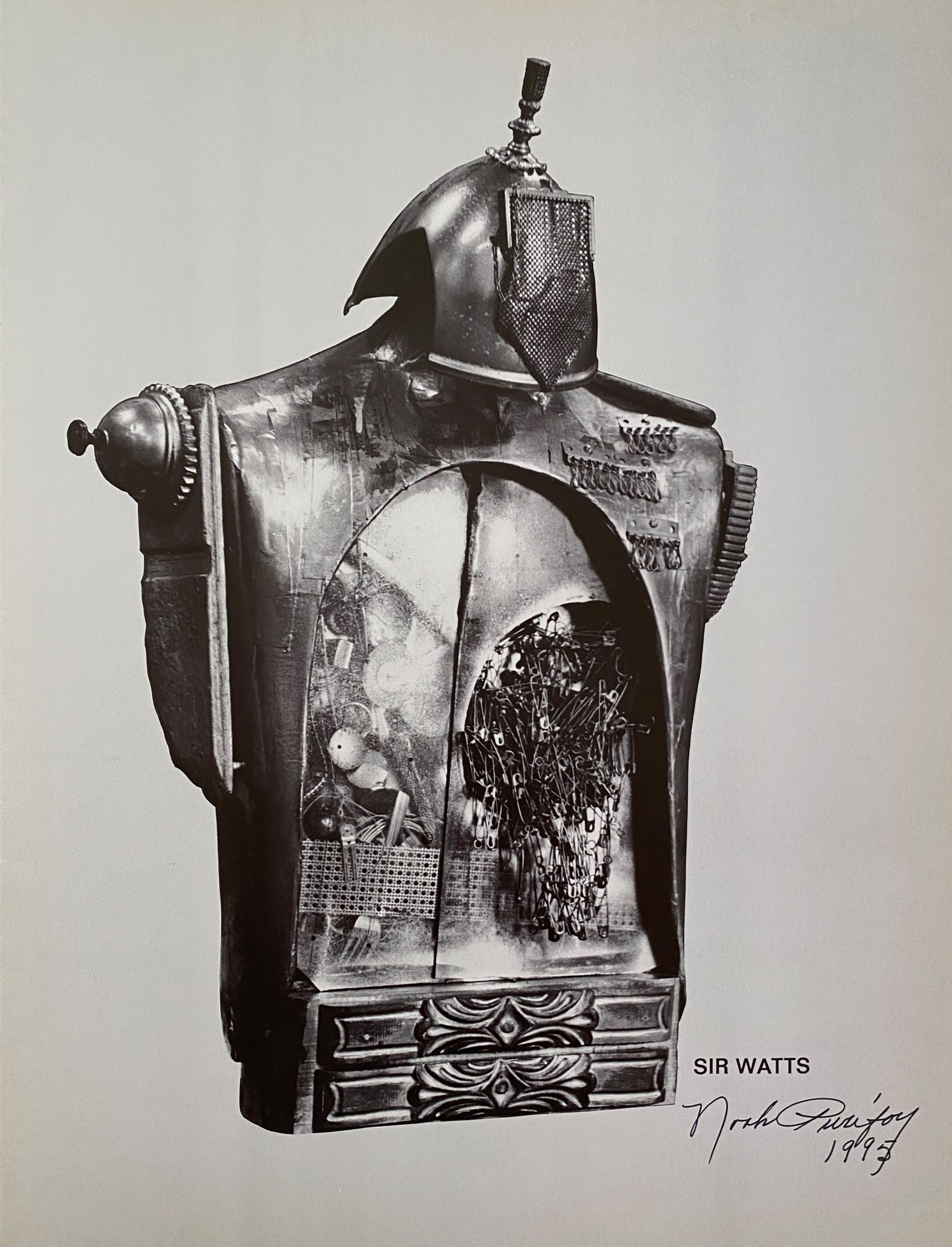 An image of Sir Watts by Noah Purifoy depicts a truncated knight in shining armor, with a cascade of safety pins falling out of the heart cavity, a service bell for a right shoulder, and a mesh coin purse for a facial feature. The knight's neck and head have merged into one, reminiscent of the Pickelhaube, head tilted slightly forward, as if in a mournful pose. The honorific soldier of Watts, heart spilling out yet still hooked and pinned all together, slim drawers for an abdomen that can be open and shut—who is the hero in this story: one individual, or an entire community?
Assemblage expanded what an art practice could be and what an artwork could say, and while these artists didn't need traditional artistic training to (re)assemble the world, many well-known (male) artists—Romare Bearden, Jasper Johns, Ellsworth Kelly, Roy Lichtenstein, Robert Motherwell, Robert Rauschenberg—received an arts education for free under the benevolence of the GI Bill. Interestingly, fewer Assemblage artists in California benefited from the Bill, but those who did—Jess, Jerry Ross Barrish, Llyn Foulkes, Wally Hedrick, John Outterbridge, Noah Purifoy, and Peter Voulkos—used the opportunity to mine and transform their visions of society into unfaithful reproductions and riot artifacts, creating a kind of time capsule of a rebel postwar California. Who needed expensive materials such as oil paint, stretched canvases, bronze, marble or a printing press when the street was the art store? Nor did they need a dedicated art studio to practice in. Assemblage can be any size, made out of any thing, completed rapidly or slowly. Moving beyond the influential Dadaist collage, these Assemblage artists, educated at government expense and begotten by war, took the stuff of the world and cut it, smashed it, and distorted it into art objects that told a story of a new kind of modernity.
One could argue that the field of Assemblage expanded well beyond the confines of institutional walls, and artists began creating artworks in and with nature—and with themselves—perhaps most famously Spiral Jetty by Robert Smithson or Shoot by Chris Burden. But in order to understand these truly groundbreaking works of the 1970s, we must consider the importance of the Assemblage artworks of the 1950s and '60s and where they lie within the art historical lineage. Pop Art would supersede Assemblage as soon as 1962 (giving Assemblage but one year in the spotlight), but California artists remained steadfast in their vision of incorporating discarded, everyday items in their artwork. In her dissertation, Rebecca Solnit posits this is the "first postwar art movement to explore popular culture." Without Assemblage's exploration of our increasingly material world, it is difficult to imagine how Pop Art would have germinated, progressed, and well, mushroomed.