Worlds: Geoscope 2
An installation travels to Venice, and is transfigured by 2020 along the way
Julian Harake
June 25, 2021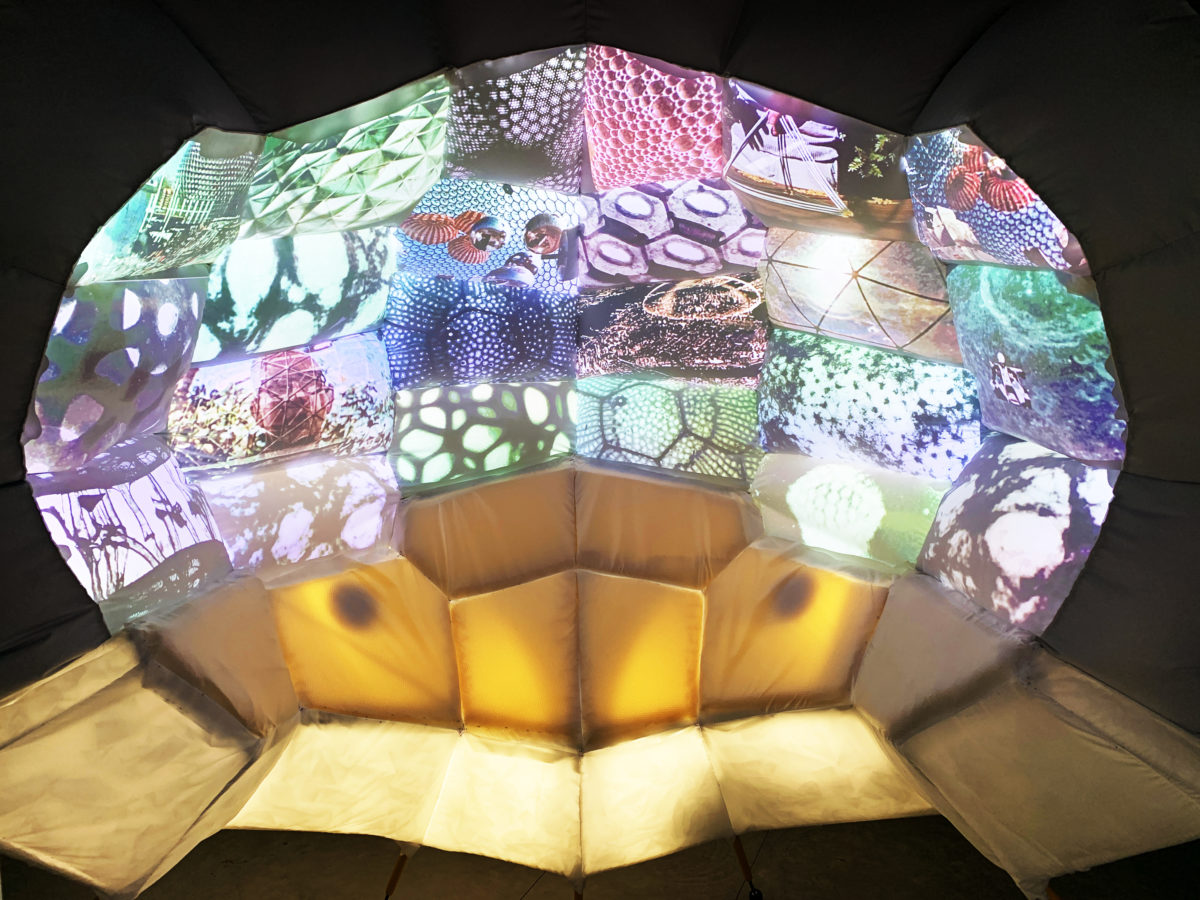 Photographs by Julian Harake
Geoscope 2 is a mouthful: an immersive, inflatable, multimedia environment—a white fabric, ten-foot diameter sphere sitting on a steel, fabric, and polycarbonate hemispherical base padded with amber-colored, backlit Stimulite® cushioning, externally covered with 46 ceiling-suspended Optoma ultra short-throw, inward-facing projectors—designed, fabricated, and installed during the first four weeks of 2020 for an exhibition at Princeton University's School of Architecture on the life, work, and planetary thinking of self-described "engineer, inventor, mathematician, architect, cartographer, philosopher, poet, cosmogonist, comprehensive designer, and choreographer" R. Buckminster Fuller, who had briefly taught at the university some sixty-odd years ago. The brainchild of New York based architects Jesse Reiser, Nanako Umemoto, and curator Daniel Lopez-Perez, the project was conceived as a celebration of the latter's newly published book R. Buckminster Fuller: Pattern Thinking (Lars Müller Publishers, 2020), and a continuation of Fuller's original Geoscope workshops held during his tenure at Princeton. Large, unwieldy, and often shoddily constructed by his students, the original Geoscopes were meant to embody what Fuller called "the world looking at itself" and a means of comprehensively understanding one's relationship to the world. Similarly, Geoscope 2 was intended as a cockpit and capsule to experience six decades of architectural thinking at a planetary scale, to temporarily inhabit Fuller's rich and all-encompassing world in all its brilliance, abundance, and notorious eccentricity.
In truth, Fuller was no great architect. His broad appeal arguably came more from the seductive nature of his overall vision than from his specific architectural and engineering solutions. In hindsight this is all too clear: his typically all-white, faceted geodesic domes were far too formally rigid and geometrically pure to be practical or accommodating, and his general outlook on design far too idealistic to adequately confront the realities of building and occupancy. Rather than a criticism, this is simply to assert that Fuller's was an aesthetic project, as all utopian visions are. While the hippies of Drop City, Colorado, (built in 1965, abandoned in the early 1970s) utilized the economy of Fuller's geodesics to cheaply engineer their slipshod, corrugated metal homes, no doubt they were equally attracted to the utopian underpinnings that such structures harbored in the genetic stuff of their making.
Aesthetically driven optimism is an unfailing hallmark of good architecture. It also comes in handy when you have four weeks to complete a large, complex undertaking like Geoscope 2. Coffee helps too, and I can attest that much was consumed in the days, nights and weekends between January 4th and February 3rd in 2020 as we prepared for its premiere in Princeton. Too wide in scope and scale for one office, Geoscope 2 was designed and fabricated piecemeal by a team diverse in nationality and expertise, with regular check-in meetings notably held on Skype, as Zoom was not then a household name. In fact, it was not until the final installation at Princeton University's School of Architecture that we all learned what each other really looked like, having traveled thousands of miles for a few final near-all-nighters before the opening reception.
Given its complexity, we likewise could not anticipate the final form and experience of Geoscope 2, despite countless coordination meetings and collaborative digital modelling. It was to our collective relief that, as we brought together each of its individual components—the upper inflatable portion from Mexico, the lower rigid 'seat' from Princeton, and digital content from Switzerland—its spherical elegance began to take shape in ways both literal and metaphorical, and (dare I write?) spiritual. Like an egg or womb (or more likely a bomb), surrounded by images of cellular mitosis, planetary bodies, and Fuller's arcane formulations intending to unite them all, the many worlds of our expertise had at last converged into one. With its ten-foot diameter, the dome, grazing the underside of the gallery's beams, illuminated the darkened space in swaths of pale blues and greens. For the first time we could all stand back, marveling at our collective accomplishment, and ask, in those wee morning hours before the opening reception, if only quietly to ourselves: "Exactly what the hell is this thing?"
The question is more common than one might think, at least in art and architecture. Fuller's work especially warrants it. As he could only speculate on the application of his geodesics, Fuller nonetheless understood that they held a strange, ineffable profundity. They were objects through which the world could be read anew, at least to him, even if in ways seemingly ambiguous and foreign. Likewise in art and architecture, an ambiguity of application is often more compelling than a clarity of intention. Like a hammer or a wheelbarrow, art and architecture are but timelessly handy tools of osmotic transformation, perpetually useful toward undefined ends. As Fuller's geodesics were co-opted at various times and circumstances to envision city-spanning shields against atomic weaponry, potential habitations on Mars, and, more recently, family-sized enclosures for mandated outdoor dining, our training granted us an optimism that, in time and circumstance, Geoscope 2 would also become profound and meaningful in ways impossible to foresee.
As it turns out, these hopes were answered in the most nightmarish of ways. Now I can only wonder how many cases of Covid-19 might trace back to that well-attended opening reception at Princeton University, specifically to our newly birthed creation, with an interior diameter of seven feet and capable of holding two or three occupants at a time, that only in hindsight looked so eerily like a coronavirus, spike proteins and all. Or how our remote, inconvenient ways of working, making, and meeting via Skype would so fittingly presage the likely futures of work and leisure. And how the aggravating lateness of the opening reception "mission patch" souvenirs we had custom ordered from Wuhan was in fact very much excusable. And, at last, how Fuller had so well predicted that a hauntingly beautiful spherical creation, though not large, would one day seem to unite us all, a harbinger not of liberation but of suffering, loneliness, and pain.
Far from ironic coincidences, these are but facts of art and life. I suspect they were not lost on Hashim Sarkis, director of the then 2020 Venice Biennale of Architecture, when he chose the theme "How Will We Live Together?" prior to the upheavals of that year. I too suspect they were not lost on biennale curator Paul Andersen, who attended our opening and invited us to participate. Of course, the initial thrill of our inclusion was soon to be blunted by lockdowns and quarantines, the cutting short of our exhibition at Princeton, and the inevitable postponement of the Biennale. To quote architect (and eventual Geoscope 2 contributor) David Ruy, "You don't need me to tell you that things have changed."
Thus, the once-inviting, gel-padded interior of Geoscope 2 now presented more like a death chamber. Nobody at the Biennale could be expected to climb into its small, mostly sealed-off interior, potentially caked in the germs of thousands of prior inhabitants, the majority having just traveled internationally. It was hard to imagine a worse setup for potential contagion, and our options were limited, if not all seemingly ridiculous. Our first was to don each visitor with a protective Tyvek™ "spacesuit"—hat, booties, goggles and all—white like Geoscope 2 and akin to NASA's ground crew uniforms worn prior to rocket launches. The heightened audience participation particularly interested us, as well as the visual uniformity between inhabitants and the installation. We could also monogram the uniforms with our official Geoscope 2 logo, making good use of the mission patches that had finally arrived from Wuhan. That idea seemed less crazy to us than not allowing any inhabitants at all, or having visitors more modestly peek in through the Geoscope's small doorway one at a time.
Despite our enthusiasm for the spacesuits, we found they were not cheap, at least when multiplied by the thousands of potential cosmonauts who would venture to Italy for the Biennale. Struggling forward, we leaned on the project's original metaphorical references and decided upon perhaps the least Fulleresque solution imaginable: we would literally split the entire installation in half and open it up, so that viewers could stand outside and pass between its two glowing hemispheres. The result would be nuclear fission, no longer in the vein of Fuller's hermetically sealed, platonically rigid Geoscopes, and consequently more explosive, open, flexible, and adaptive to the changing circumstances of its exhibition. This was all easy enough. The inflatable upper portion was shipped back to Mexico for adjustment, and welders at Princeton were recruited to modify Geoscope 2's rigid lower half. Given the one-year delay, time was on our side. Yet faced with our new "cracked-egg" version of the Geoscope 2, it soon became clear that other things had to change too. Another kind of opening up was both deserved and necessary, warranted by both the Biennale theme and our collective amazement at ongoing events.
At Princeton, Fuller's vast archive had been meticulously curated by Daniel Lopez-Perez and projected on Geoscope 2's interior surface. Now preparing for a new place and time, the opportunity to turn the installation's kaleidoscopic lens toward other issues was simply too great to pass up. The solution we chose, and now on view in Venice, was similarly kaleidoscopic: we would less curate than solicit content, individual topics and issues to be determined from a litany of invited contributors from within and outside the discipline of architecture. Radical ecologist and philosopher Timothy Morton contributed three short lectures, speculating on the ramifications of climate change in the vein of George Bataille's "generalized economy." With Fulleresque bravado, architect Karl Chu muses on the "global brain" and architecture's relationship to "being" in the philosophical sense. Theorist Jeffrey Kipnis more succinctly likens the powers of design to those of music, and architect Stan Allen delivers a short presentation on architecture's geological origins. On our part, we contributed two films: one a slick, propagandistic advertisement and embodiment of design's political potential, and the other film examining the contested legacy of Philip Johnson, its narration colored by nostalgia and grief toward both Johnson and the fragile art of architecture.
Our international team thus gathered again in Venice 15 months later, donning masks and Tyvek™ spacesuits (which we ended up keeping for ourselves). Geoscope 2 was reborn as a messier, more compelling version of its previous self, countless cables and wires slung between projectors along its outer surface, opening itself to new audiences and a growing list of contributions: a pointed, more light-hearted contrast to the deathly seriousness and rhetorical nature of too much of this year's Biennale. With its glowing amber "seat" now inviting visitors to lean (not lie) against the facade and its upper half divided into four zones of simultaneously playing audiovisual content, Geoscope 2 can now be heard throughout the other galleries of the Bienniale's central pavilion. Like television static or the sounds of the city, it forms a soundscape hovering between clarity, distraction, and phantasmagoria for the entire pavilion. A bomb indeed.
Words can only do so much, though I'd like to think the inadequacy attests to the rich, experiential nature of Geoscope 2. Jesse Reiser described it as a "cholent," like the traditional Jewish stew where various miscellaneous foods, including vegetables, meat and bones were tossed together into a pot and boiled with water. Over hours of cooking on low heat, the flavors slowly meld together into something coherent and filling, irreducible to its individual ingredients. Similarly, the presupposed incoherence and cacophony of Geoscope 2 engenders a kaleidoscopic ecosystem, a tableau of world-thinking on the edge. How else more fitting to describe and experience this world, or rather, the many worlds of our dear mother Earth?
17th Venice International Architecture Exhibition: "How Will We Live Together?"
May 05, 2021—November 21, 2021
https://www.labiennale.org/en/architecture/2021
Team:
Daniel López-Pérez & Jesse Reiser
Geoscope 2 Design: RUR Architecture, Reiser+Umemoto
RUR Architecture Team: Julian Harake, Katherine Leung
Inflatable Design: Pablo Kobayashi/Unidad de Protocolos
Inflatable Fabrication Team: Lucía Aumann, Ernesto Falabella, Emilio Robles, Pablo Kobayashi/Unidad de Protocolos
Experience Design: Jan Pistor—Bureau 314/for iart with support from Denim Szram
Exhibition Manager: Kira McDonald/Princeton University School of Architecture
Exhibition Fabrication Assistants: Jasen Domanico, Kaleb Houston, Simon Lesina-Debiasi, Matthew Maldonado, Jacqueline Mix, Sonia Sobrino Ralston, Adrian Silva/Princeton University School of Architecture
Partnerships & Communications: Lukas Fitze/iart
Trailer Video: Onome Ekeh/Futurezoo

Additional Team from R. Buckminster Fuller: Pattern Thinking, 2020:
Fabrication Lead: Grey Wartinger/Princeton University School of Architecture
Exhibition Assistants: Andrew Cornelis, Ryan Gagnebin, Matthew Maldonado, Elena M'Bouroukounda, Jacqueline Mix, Sonia Sobrino Ralston, Felix Yiu/Princeton University School of Architecture
Contributors
Marisa Yiu, Satyan Devadoss, Karl Chu, Ulrika Karlsson, Pablo Kobayashi, Urtzi Grau, AKT II, Cal Fires Technosylva, Nerea Calvillo, Ciro Najle, Reiser + Umemoto (with Julian Harake, Zaid Kashef Alghata and Yumi Chu), Tyler Armstrong, Elena M'Bouroukounda, Luis Muñoz, Daniel López-Pérez, Alejandro Zaera-Polo, Timothy Morton, David Ruy, Forensic Architecture, Stan Allen, Jeffrey Kipnis, Kazuyo Sejima, Erhard An-He Kinzelbach, Elisa Iturbe