The Scout: Sim Van der Ryn & the Outlaw Builders
When a handful of visionary architects and builders took matters into their own hands
Cole Hersey
June 12, 2021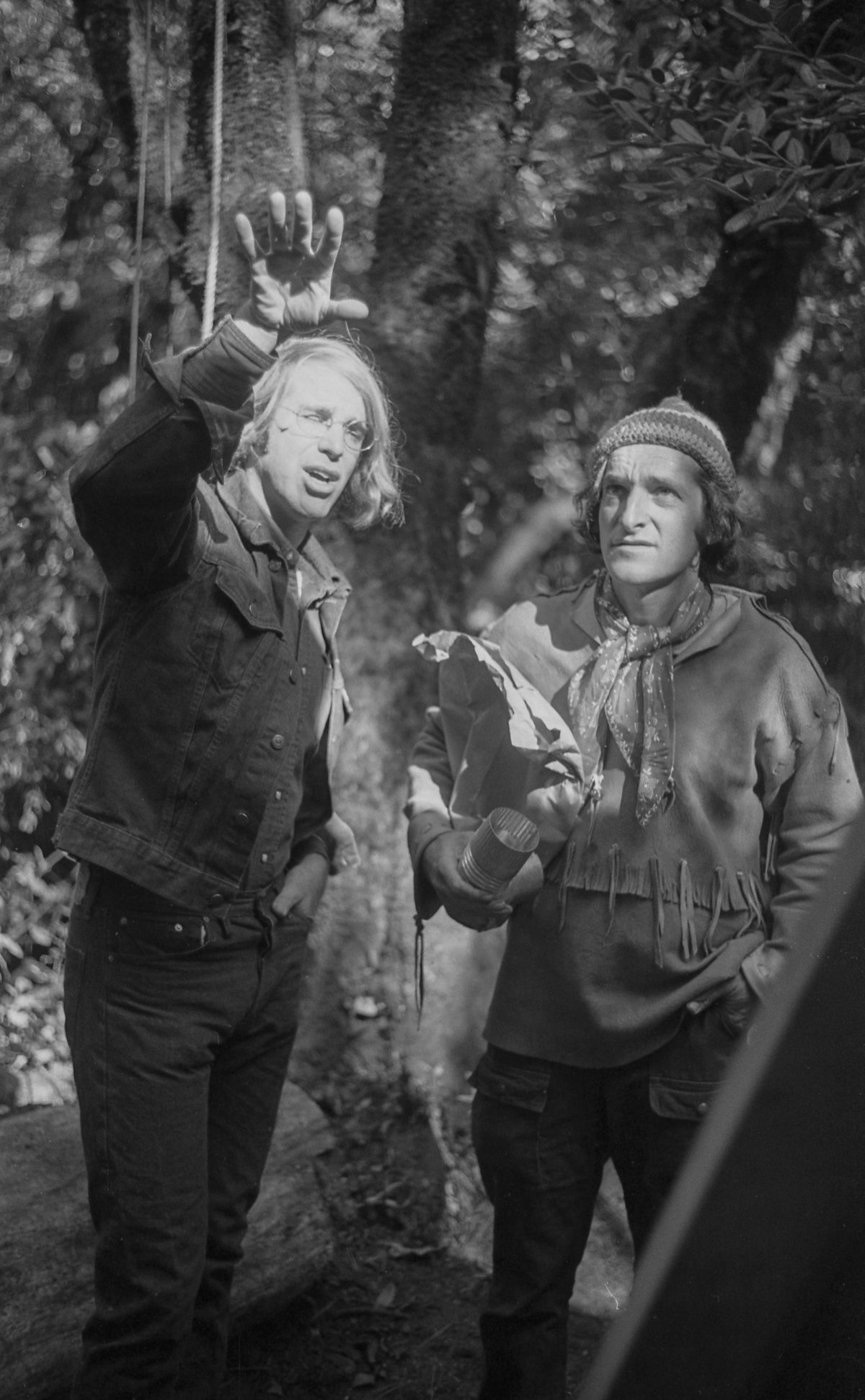 Sim & Jim, Sim Van der Ryn Collection, Anne T. Kent California Room, Marin County Free Library
Faced with the first wave of environmental warnings fifty years ago, a handful of visionary architects and builders decided to do something about the way we design structures, experimenting with new ways of building in the hopes of promoting a more sustainable way of living on our planet. In the first of a multi-part series, we take a look at The Outlaw Builders and former California State Architect Sim Van der Ryn.
(Read Part II here.)
On a sunny day in the spring of 1973, UC Berkeley professors Jim Campe and Sim Van der Ryn stood outside Wurster Hall looking at a wooden structure in the grass. It was an odd thing, almost resembling the interior of a two story home. The structure had no walls, and a small greenhouse protruded from one side. This was the Energy Pavilion, the manifestation of a semester-long course Van der Ryn and Campe taught called Natural Energy Systems.
"It was a microcosm of how living sustainably could work," Campe told me as we sat on his deck in Inverness, California this past winter, the smoke having just cleared from the summer fires.
Designed and built by Campe, Van der Ryn, and their students, the Pavilion housed a small wind generator, a homemade solar collector for hot water, (since photovoltaics were not readily available at the time), a greenhouse on the edge of the structure, a rain catchment system with multiple storage drums, compostable toilet, and a gray water recycling system, all of which were still dwelling in the margins of architecture schools and offices at the time. Campe called this "the core," a synthesis of all he and Van Der Ryn knew about sustainability at the time.
"That was totally outlaw. We didn't ask to do it, we just did it," Campe said.
Once the administration saw the Energy Pavilion, Campe recounted with a boyish smile, "We were told to get that ugly structure out of there before commencement."
Before they conceded to the wishes of the University, however, they held conferences around the Energy Pavilion, people coming in from across the country to discuss different systems of creating self-sufficient and sustainable homes.
Everything about the Energy Pavilion was new. So new, in fact, that the papers they collected for the course readings were picked up by Random House and published as the Natural Energy Designer's Handbook.
It had been only nine years since the revelation of Rachel Carson's Silent Spring, three years since the creation of the Environmental Protection Agency, one year since the passage of the Clean Water Act, and the Endangered Species Act was only months away from being enacted in Congress, as they built the Energy Pavilion. And while no one knew what they were doing when it came to protecting the planet, many, like Van der Ryn, Campe, and their students, felt the need to do something, to experiment, to play with new ways of building and living on the planet.
Today, we don't have the fortune of novelty. Sea levels are rising, storms are becoming ever-more unpredictable, tidal flooding is commonplace in many regions around the world, and wildfires in the American West are often out of our control. The proof of the climate crisis is in front of our eyes if we choose to look; however, the need for experimental and radical action remains essentially the same as it did at the beginning of the environmental movement. Van der Ryn and Campe knew this, but it was often Van der Ryn who led the way, jokingly nicknamed by Campe, the Scout.
"He was always like the pointer," architectural historian Greg Castillo told me. "He would be out in front, finding the next thing, finding the next wave. And then he would incite all of this energy and enthusiasm…and then people would pile on to that [new idea]. Then, as scout, Sim would very quickly be off to the next thing."
Sim Van der Ryn, who as a child fled the Netherlands with his family just before the Nazi invasion in 1940, had always known that action, not abstraction, was necessary to make any sort of change. As he is quoted on his website, "When you escape one holocaust, you don't want to be part of creating another." When applied to building, this meant reconsidering everything—from materials, to the way things were built, and rethinking how to live in a community.
This became clear to Van der Ryn during the creation of People's Park in 1969, when students and community members took over a large vacant lot off Telegraph Avenue owned by the University, and created a sort of improvisational communal park. As Castillo put it, it was a kind of "alternative world building project," a place to experiment with new ways of living, like the famous Diggers' free store on Haight Street in 1967.
"People were coming and saying 'Oh we can have this plan and we can do this and we can plan to do this,'" Castillo told me, "and other people would say, 'No that's not what we want. We're not doing plans. We're just letting it happen.' And that was mind blowing for an architect."
"I was amazed to see what for nine months had been a dusty, rutted parking lot now transform, with sod and flowers, into a pleasant place to be," Van der Ryn recalled in his book Design for Life.
The administration, however, had plans for the site, beginning with athletic fields and eventually student housing. Chancellor Roger Heyns ordered a fence be placed around the lot and introduced security guards to the area, effectively destroying the park. The administration's actions culminated in a string of protests that ended on May 15, 1969 with "Bloody Thursday," when "Dozens were shot, hundreds were arrested, and thousands were teargassed—protesters and innocent bystanders alike," according to East Bay Yesterday.
The experiences surrounding People's Park proved tremendously formative for Van der Ryn. After "Bloody Thursday," Van Der Ryn began to reconsider what it meant to build for communities and why anyone needed codes and permits at all if your ideas in and of themselves were good.
After People's Park, Van der Ryn slowly distanced himself from UC Berkeley, growing tired of the bureaucracy of the school. In 1971, as Van der Ryn recounted in an interview in Archis, "I told the department that I had had enough, and that I wasn't coming back to teach on campus. They asked me what I planned to do. I had just bought five acres near the Point Reyes National Seashore, and I said I was going to conduct a Berkeley class out there, with the students living there four days a week, and we would call it 'Making a Place in the Country.'"
"Making a Place in the Country" was an entirely new undertaking for the University, and something it wasn't fully clued in on, according to Van der Ryn and Campe. As the course description says, students were to be given "experience in design, construction and other practical skills people need in order to live in the country." This was only part of the reason they taught the class. A major thrust was a desire to help students reconsider what was good and bad building design, by building without considering codes and permitting.
"We felt that in order to do things that were creative, innovative, and affordable, you couldn't do it with permits," Campe told me. They called this ethic "Outlaw Building."
In the semester-long course, students mostly lived on Van der Ryn's property in Inverness, an hour north of Berkeley. Students built and salvaged all their own materials for the homes they were to create, along with a few larger communal projects. None of the building was up to code, and it was illegal at the time to build with salvaged materials, which they used almost exclusively.
"It was basically going against everything that a professional school of architecture stands for," Castillo told me. "The part about teaching students to use hammers and saws, that's fine. But to teach students how to build stuff that's contrary to code … — there's no permit for anything—it's all like in the most flagrant code violations."
To Campe and Van der Ryn, the laws and accepted practices of architects and builders didn't always make sense. If the state or cities wouldn't allow them to build something they thought might be good, they would build it anyway.
"These were just things that outlaws would do," Campe said.
The class ended that spring, but Van der Ryn's experiments were far from over. Two years later, again with Campe's aid, he and their students built the Energy Pavilion. Once the school insisted they tear it down, an unknown donor (possibly a rich student, according to Castillo) gave them money to build out those systems into an actual home in Berkeley, which became known as the Integral Urban House, and stood until the mid-1980s. After the Urban House, Van der Ryn used a federal grant to create an experiential learning space in Sonoma County called the Farallones Institute Rural Center, now known as Occidental Arts & Ecology Center. Still, as Castillo pointed out, Van der Ryn built parts of the center against code with his federal grant money.
"Sonoma [county officials] started to crack down on him and they gave him the message that he was accruing violations at the rate of like $1,500 a week." Castillo said.
Around this time the newly elected governor of California Jerry Brown—politically unorthodox in his own right— called Van der Ryn to ask if he would like to rebuild the state capitol building. Van der Ryn went to Sacramento to look over the project and prepare a report for the governor. After a few more exchanges and two more papers he wrote for the governor—on renewable energy and appropriate technology—Brown called Van der Ryn and asked him to become California's new State Architect. To quell Sim's worries about leaving the Farallones Institute behind, as Van der Ryn quotes him in Design for Life, Brown said, "Sacramento is just a sandbox for us to play in. You can go for what you want…I'm with you."
"For me it's been a trajectory," Van der Ryn told Archis. "Those wild years in Sacramento were a wave; we just were there at the right time. Working for Jerry, I was able to get a lot done. I never took it that seriously."
Thinking back on the class they taught in Inverness, Jim Campe told me, "We were doing positive things and many of those became codes when Sim became State Architect," like a class K permit in Mendocino, Humboldt, and Sonoma counties, which allowed the use of recycled materials in building.
As part of his work under Governor Brown, Van der Ryn designed the Gregory Bateson Building, a 250,000 square foot office building in Sacramento that, according to Van der Ryn's website, uses "innovative heating, cooling and daylighting strategies as well as various analysis methods such as computer modeling of building thermal performance which have become the standard for energy efficient building design." As the Architectural Review said in 2013, it was "The first large-scale building to embody what we now call sustainable architecture." Today, it is widely recognized as an important piece of architectural history.
Van der Ryn's biggest contribution is arguably the Office of Appropriate Technology, or OAT. This department was tasked with assisting the state in "developing and implementing less costly and less energy-intensive technologies of recycling, waste disposal, transportation, agriculture, energy, and building design." However, as Louisiana State University professor of architecture, Meredith Gaglio noted, having such "an institutional acknowledgment of countercultural values" in the state office made many bureaucrats wary of these "self-righteous, inexperienced, denim-clad meddlers" in their halls.
"During OAT's brief history [1977-1982]," Gaglio writes, "the Office grew from a small, countercultural taskforce to a well-respected State department while maintaining its core ideology and creative spirit."
"Sim was telling me in his good days," Castillo said, "that for the Office of Appropriate Technologies they would have get-togethers in Jerry Brown's office. People were sitting on the floor. There would be people coming from foreign countries just to listen in on it. It's the first place in the world this was done."
When Brown chose not to run for a third term and was succeeded by Republican George Deukmejian, OAT was effectively dissolved. According to Castillo, Deukmejian's administration set "renewables back in California about thirty years. So the developments that we made… around 2000, should have been done twenty years earlier."
Van Der Ryn never seemed perturbed by this. In the same interview in Archis in 2011, he said, "We became, and still are, the most energy-efficient state in the country. We reduced energy consumption by 40% from what was then the standard." Van der Ryn's stint as State Architect was a critical step in bringing "the imperative need for energy conservation in all current and future public structures" to the forefront of the public and legislature's minds.
I returned to Jim Campe's house a couple months later on one of the few days of light rain we saw this winter. As we sat inside, talking about the birth of the environmental movement, Campe said it began "in the '70s because it was the last time when our parts per million [of CO2] was at a sustainable place for our planet." This, Campe went on, was the driver for much of his and Van der Ryn's work.
"We need more of this kind of building," Campe said. "We need more of this kind of experimenting. We need more of this way of promoting a lifestyle that is not so polluting, and not so energy consumptive."